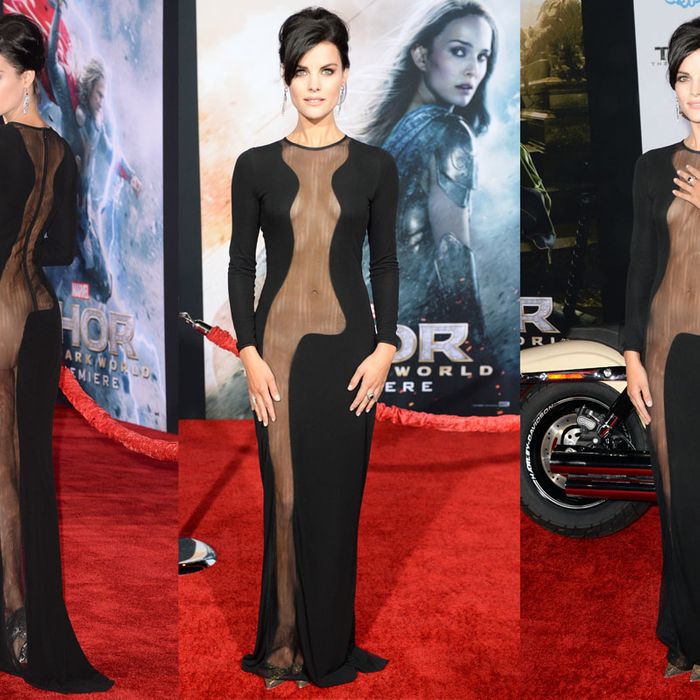 For the premiere of Thor: The Dark World, actress Jaimie Alexander wore a black dress with long sleeves, a floor-length skirt, and a crew neck. That description may sound a little Amish, but the Azzaro gown nonetheless showed cleavage, hip bone, chest bone, belly button, bikini line, and butt cheeks through sheer panels in the front and back. She wore neither panties nor bra. She was naked in a floor-length gown.
Some have described Alexander's dress as having "cutouts." But nobody "cut out" those pieces; they simply never were. This is a dress slit not to the waist, but to the neck. This is whole-body cleavage.
And yet it is also strangely sexless. Sure, she's nearly naked, but unlike breasts pushed up through a neckline as an emblem of abundance, the vertically cleaved dress is about reduction: a swath of clothing removed for a display of hard-bodied discipline — or denial, even, of that. "People hate me," Peter Facinelli's girlfriend said. "I don't work out that much."
Come, let us explore the dazzling precedents for this restrictive new mode of near-nudity.
1. THE SIDE-BUTT PRECEDENT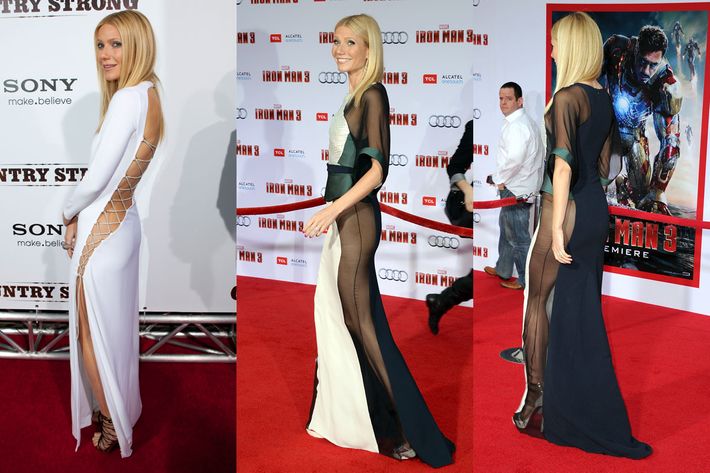 Last April, Gwyneth Paltrow incited nationwide chaos by wearing a flank-revealing Antonio Berardi gown to the Iron Man 3 premiere. The garment was so revealing, Paltrow said she "couldn't wear underwear … let's just say everyone went scrambling for a razor." Though Gwyneth's iron-butt dress tipped off the Great Side-Butt Trend of 2013, the queen of corporeal discipline had in fact shown side-butt as early as the 2010 Country Strong premiere.
Gwyneth's discipline extends even to her posture. If she bends over funny in one of these dresses, she treats the world to a full-on gynecological exam. Full-body cleavage is not for amateurs.
2. THE SHEER-SIDE PRECEDENT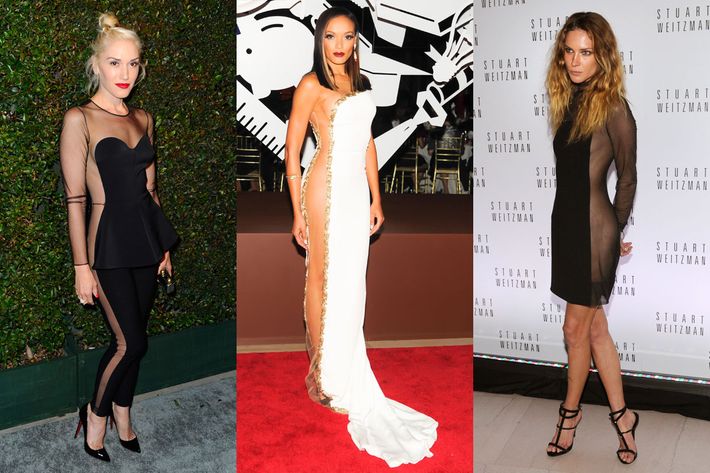 Paltrow's stylist described her side-butt dress as "daring in a not-daring way." This is the logic behind recent trends in sheer side-paneling. "Cleavage isn't necessarily slenderizing, but the beauty of the sideless dress is it creates an illusion of a slimmer shape," BuzzFeed's Amy Odell wrote in May.
3. THE PITFALLS OF SHEER SIDES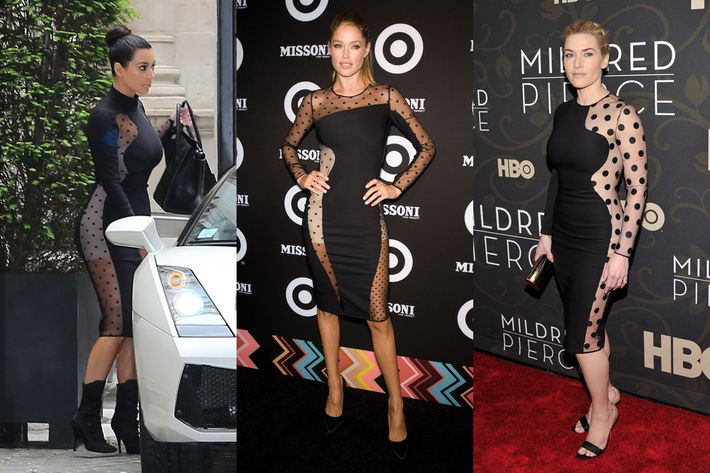 But the sheer panels are not easy to wear, because undergarments are tricky at best, impossible at worst. When Kim Kardashian wore a tube-shaped garment under her Stella McCartney "miracle dress," she was ridiculed for wearing Spanx under sheers. When it turned out the undergarment actually came with the dress, she became a mere fashion victim. To make whole-body cleavage work, you either need flesh the color of "flesh-toned" fabric, or flesh toned enough to forgo undergarments. As Kim and Doutzen Kroes demonstrate, visible lining kind of ruins the look. (But Kate Winslet is fetching!)
4. THE SQUARE-CLEAVAGE PRECEDENT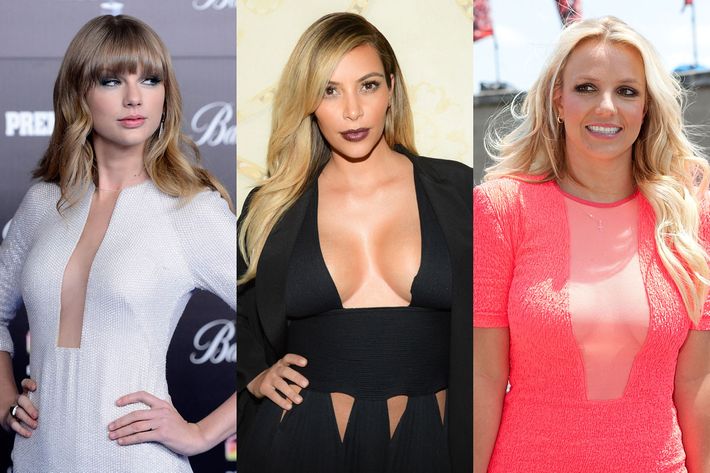 Jaimie Alexander's vertical stripe of nudity also has a precedent in recent rectangular-shaped plunging necklines. Whereas scoop necks and V-necks create the illusion of breasts so ample, they runneth over, a plunging rectangular-shaped neckline frames the chest bone. Too much flesh can be a problem here, too; Kim Kardashian was criticized for the above garment, too.
Like cleaved dresses, square-neckline clothing may appear to be "missing" a strip of cloth. And so, as 16-year-old Kylie Jenner recently discovered, square cleavage falls quickly into "raunchy" territory.
5. CASE STUDY: JENNIFER LOPEZ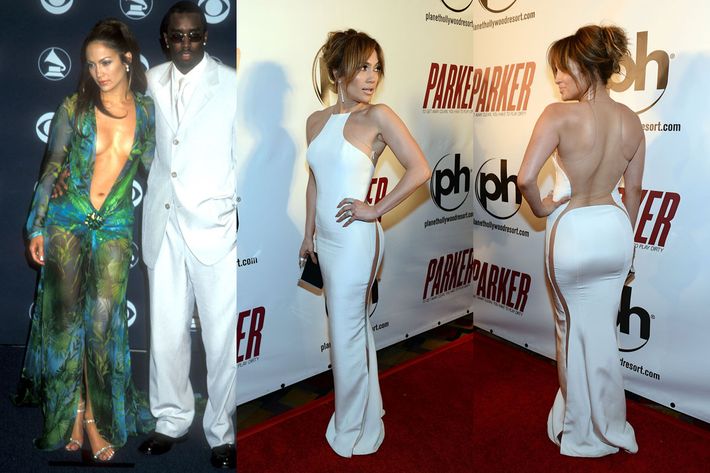 The near-nude oeuvre of Jennifer Lopez demonstrates this historic shift from nudity-of-abundance to nudity-of-restriction. In her famous green Versace gown from the 2000 Grammys, Lopez displays the softest parts of her body in a filmy dress that could be a tossed-on dressing gown. Thirteen years later, the combined effect of the illusion netting and cutouts that emphasize musculature creates a silhouette more appropriate for the sleek-and-firm era of Spanx.
The effect is still sexy, but more of a hard, strong, power-sexy. Last month, J.Lo showed chest, breasts, thighs, hips, side-butt, and shoulders — in a wintry mock-neck gown with long sleeves. That's the evening-wear equivalent of showing cleavage in full-body armor.