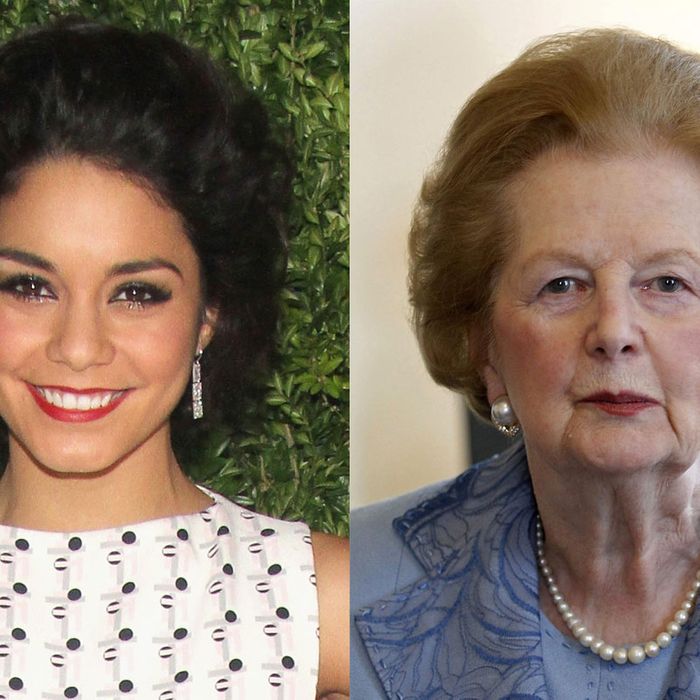 Vanessa Hudgens has never been afraid to draw inspiration from the past. Usually, it's from Woodstock (she's pretty much Coachella-ready at all times), except at last night's CFDA Awards, where she pulled from a much more British source of inspiration.
The Daily Mail reports that Hudgens looked older than her years — but we couldn't figure out exactly who she was channeling, so we polled the Cut editors in our chat room:
Diana Tsui: Nancy Reagan.
Kathleen Hou: Bea Arthur.
Kat Stoeffel: Oh my God, the profile view.
Diana: The profile view is like aliens.
Allison Davis: She kinda looks like Janet Leigh in Bye Bye Birdie.
Maggie Lange: The nanny from Eloise.
Sally Holmes: From the side, it just looks like a poodle's butt.
Thankfully, Glamour UK figured it out — because that hairstyle came from a divining source of their country's economic policy for three terms. Hudgens firmly channeled someone with a strong immovable sense of folicular and fiscal guidelines; someone who wouldn't "go wobbly" at crucial moments. That's right: Hudgens turned herself into Margaret Thatcher.