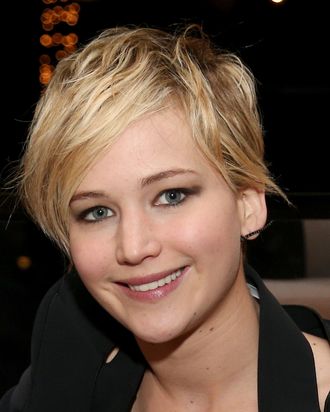 Photo: Imeh Akpanudosen/Getty Images
Last week, Jennifer Lawrence did a thing where she took some hair — which, reportedly, is a human feature that renews itself — and she cut it. The reactions were a mixed, but badly mixed. Now, throwing himself at the mercy of every hair cut conspiracy theorist, pixie-reviler, and general change-hater, the director of Catching Fire, Francis Lawrence is blaming himself:
She used to give me a hard time about the hair because I was always saying, "Dye your hair, dye your hair. We need your hair dyed, no wigs!" And then of course, dying her hair fried her hair, so she had to cut her hair.
And though J. Lawrence attempted to protect F. Lawrence from this truth about fried manes, the director learned the full, true Hollywood story of her reason for joining the Pixie Club of Hollywood.
At first I didn't realize it was messed up. I thought she was cutting it just to wear wigs to make me mad, but it wasn't the case. We actually fried her hair, which is sad. I feel bad.
So there you are. Jennifer Lawrence is not to blame for this chop. It was a follicle emergency, all in the name of avoiding a bad wig.