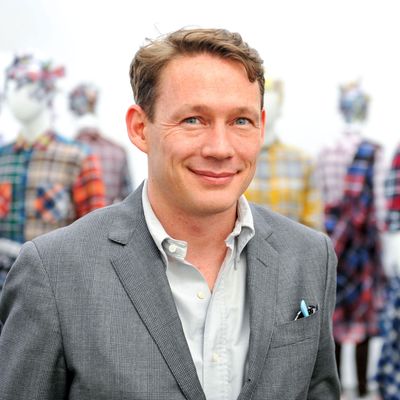 Photo: Leandro Justen/BFANYC.com
Eric Wilson is halfway through his first day as InStyle's first-ever fashion news director, and his office bears the signs of a fresh start: The walls are empty, and congratulatory flower deliveries crowd his otherwise clean desk. "Do you want to take some home with you?" Wilson asks, gesturing to a bouquet of white roses. "I feel sort of silly with them just sitting there."
With his twinkling blue eyes, dimples, and quick smile, Wilson doesn't look like your typical hardened fashion journalist, but he's spent the past seventeen years at two of the industry's most venerable titles — first at WWD and then at the New York Times' "Styles" section. When he announced just over a month ago that he was decamping to InStyle, a title better known for its mainstream celebrity and red-carpet coverage than the incisive reporting that's defined his career, many were surprised.
Wilson is the first to admit that the decision was a tough one. "I hadn't been thinking about leaving the Times at all," he says. But when Ariel Foxman, InStyle's editor-in-chief, approached Wilson several months ago, he couldn't push aside the idea of how enjoyable the job sounded. "I went back and forth many times, but the question I kept coming back to was, Is it fun to work there? Because it looked insanely fun," he says. "Every aspect of it, every responsibility, seemed like something fun to do. Going to interview this designer and do a feature on what they're all about — that sounds fun. The Golden Globes viewing party for InStyle — that seems amazingly fun!"
But don't worry, the prospect of all this merriment hasn't blunted his signature humor. "Of course, I didn't think about, like, trying to figure out a new e-mail system," he adds. "That's not so fun, but I'll get through it."
Read on for the Cut's exclusive Q&A with Wilson about his new position, the state of the red carpet, and how he's determined to avoid the hype of the fashion industry.
How's your first day going so far?
Well, it's intense, but it's wonderful. It's such a different environment than what the newspaper was, and it's just what you picture a magazine to be like — like, the fashion closet's right there, so I'm kind of girling out a little right now, peeking around the corner to see who else is there. 
Did you take any time off before this?
I was off last week. I went to Fort Lauderdale to visit my oldest friend, whom I've known since we were Webelos together, so we spent a nice weekend and caught up. Then I came back and started to get my mind into work mode already, because I'm arriving just as we're starting to work on the big March, April, May issues. I reread two years of the magazine from cover to cover, which was really fun actually. You see a lot of things differently when you're looking not as a reader but as a future insider.
So you basically started your new job on your week of vacation.
I think with any job today you don't really have time to go in and leisurely hang around. You have to dig in really fast.
When you were reading over those older issues, did anything surprise you?
When I started picking random issues from, like, five or ten years ago, I was more surprised by how much news was actually in the magazine than I recognized from over the years. I think they've done a really admirable job of covering fashion news in a way that's very distinctly InStyle, if you know what I mean. They're not doing obscenely long birth-to-death profiles of designers. They're reporting the news in a way that I think is more accessible, but also lively and quite often poetic in the way that it's presented. It's about what's going on in fashion that month, boiled down to the very essentials. If you need to know what date the Isabel Marant collection goes in what stores, it's all right there with the information.
What made you decide to leave the Times and come here?
When I started at the Times, it was with a ten-year plan, so this was a little bit premature — it was almost nine years. I remember very well starting there, and being terrified. I didn't know if I was in over my head, or if I was right for it. And then five, six years into it you have the confidence and know what you're doing. [When Foxman approached me] I'd been interested in doing magazines for a while. I had a little experience from when I was at Fairchild, writing the column for W, and I did miss that environment.
What was your ten-year plan at the Times?
It was to not screw up. [Laughs.] The Times is a very intimidating place to work. I think magazines in general are an intimidating world to be part of, but the Times is the Times, and you go in there and you think, If I make a mistake, it's going to be horrible.
How else did Ariel manage to woo you?
I've known Ariel for probably fifteen years. Mostly as a friend, occasionally as a subject I've covered. I've always enjoyed the magazine. I know six people here quite well, who love working for him, I know people who've left here who also loved working for him. It was important to me that a magazine job have some kind of news component, and that was important to him as well, so it wasn't a completely alien next step. It just kept making more and more sense.
The pace of a monthly magazine is very different from a daily newspaper. Is that part of the appeal of this job, getting to have a little more time to sit with a subject instead of racing against deadlines all the time?
Well, the reality is that the Internet is a far more important part of any magazine today, and I'll be contributing to that, too, so I'm not escaping the daily news cycle. I don't expect my pace to be like a leisurely vacation here, by any means. If someone dies on a Saturday, I'll be writing about it. But there is that weight of responsibility on you at all moments when you're a newspaper reporter, and it will be a different set of responsibilities here. To be able to think about things in a three months' time period instead of what's happening in next week's column will be exciting.
Did you have any make-or-break requirements? Like, a certain feature of the job that you absolutely had to have?
Nothing out of the ordinary, no. I'm hardly a diva. I didn't ask for a personal assistant, or a daily shoe shine.
I got the sense that you coming in here would bring some changes within the magazine. Can you talk a little about that?
Not yet, only because nothing has been set. I have a lot of ideas of things I want to bring in to the magazine, but we haven't determined what's totally going to be the case. But, I think the thing about InStyle to keep in mind is that it's such a successful brand that you can't make serious, overnight changes and expect the readers to appreciate that. Everything that I'm pitching is with this idea in mind of, How can this add to what the reader is already getting? It needs to be news about the fashion industry that is beneficial to those readers.
The way that I always think about it, even in my previous work, is how do you explain to readers what happened to make the clothes that are there in their closest every morning get there? What went into their design, what went into their production, and what trends caused you to want to buy them? I think there's a lot of insider information that's actually very interesting to a reader, but there's also a lot that isn't, so figuring out that balance is going to be a priority for me — a challenge, also.
It's also a different type of writing, and it's far more focused on what the reader wants versus what I want to say. Not that I won't be saying what I want to say, but the readers' needs need to take more of a priority.
How else do you think you'll have to adapt your voice for this readership?
I think it's safe to say the snark monster is going away for some time. But, that said, it's my voice, and I can't say things that I don't think are authentic. It's a chance for me to come up with a fun way of talking about fashion without getting into the hype of it or being a pushover. There are a lot of stories to tell about fashion that can be done in creative and witty ways, without being condescending. I'm not an intellectual; I couldn't tell you anything about fashion theory or academia. I'm a lot more shallow than people really see. And I love talking about the shows and the red carpet and what you see there. The key thing in my mind is to be enthusiastic, fun, and engaged. I don't want to turn people off by being cynical or jaded, which does happen sometimes when you're a newspaper reporter.
What does your role as "fashion news director" mean, exactly?
I would say the role is to create a voice for the news coverage as it relates to the designer industry, and also a person designers can talk to about what they want, and how they want to be presented and perceived. So it's a bit like being an interpreter of fashion — from the industry to the reader, and from the industry to the magazine.
How do you feel about the red carpet, in its current state?
I am very optimistic that the red carpet is waking up to the fact that millions of people are watching it now, and they're far more educated about fashion choices and even obscure designers than they've ever been in the history of televised events. The participants — stylists, designers, celebrities — are all more aware about the messages that they're sending based on their choices on the red carpet. Knowing that the viewer is far more educated has challenged them to be a little more creative and risk-taking in their choices.
For a decade and a half, we saw very safe choices because actors didn't want to be slammed by the fashion police, or criticized for making a wild choice, or mainly didn't want anyone to say that they looked old. I pray that's coming to an end. In the last year and a half we've seen a lot of positive changes, with new designers and wonderful shapes coming onto the red carpet.
Who are some of your favorite celebrity dressers these days?
I love how Jane Fonda's been coming out in recent years. Jennifer Lawrence has been very refreshing in her approach, and even her mistakes have been quite charming. I always love seeing what Reese Witherspoon wears, and Natalie Portman, and the Olsen twins wear great things. And you know, I was a big fan of Anne Hathaway's Prada dress, the one she wore to the Oscars. I know she get slammed repeatedly, but I was all gung ho for it. I don't think people gave it a proper chance, but there was also such an interesting backstory that it was newsworthy on many levels.
Eric Wilson's work will first appear in InStyle's March issue.