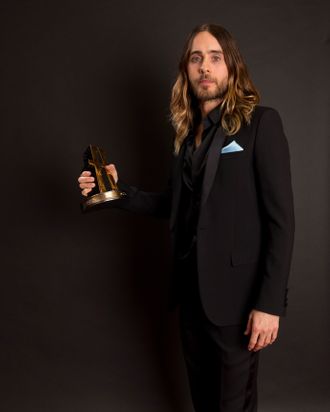 Photo: Christopher Polk/Getty Images
There's already Oscar buzz for Jared Leto for his turn as a magnetic transsexual with AIDS in his new movie, Dallas Buyers Club. David Edelstein called his embodiment of the role a "complete transformation." And that transformation apparently extended to Leto's beauty routine as well.
In addition to losing 30 pounds, Leto went really Method for his new role. He was in drag the entire time, completely in character for 24 hours a day. He met with multiple people in the transgender community to learn about how he could make his performance a real portrayal rather than a caricature. Part of that extended to learning how to put on lipstick, which he described to the Toronto Sun:
It's a very strange thing, especially putting on lipstick. It's really a signifier of femininity. Just a very strange thing.
And as he tells The Hollywood Reporter, he waxed. A lot.
What was the toughest thing about that role?

LETO: The waxing. [Laughs.] I was smooth.
Just how smooth, Jared?
LETO: I waxed my legs. Oh yeah, man, I was a pro. I didn't want that stubble growing back. I waxed my eyebrows, too.
While he may have been impervious to Angela's pain in his My So-Called Life days, he certainly feels a lady's pain now.