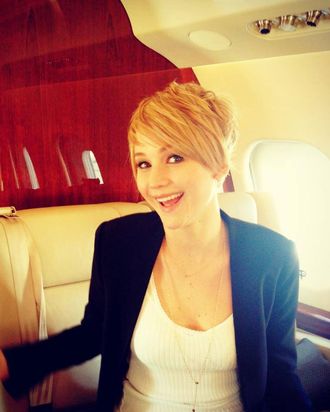 Photo: Jennifer Larence/Facebook
Jennifer Lawrence, you lovable, beguiling creature. It's pretty much impossible to not love every aspect of you, with your murderous rage towards dieting, love of Jeff Bridges, and endearingly klutzy ways. You feel like our celebrity BFF — which is why we need to talk about your new haircut. It's not bad, per se.
But it's perplexing. Lawrence unveiled the new picture on her Facebook page, while on the promotion trail for Hunger Games: Catching Fire. The Cut's initial reactions:
Veronica Gledhill: ???
Diana Tsui: Ugh, I love you, J.Law. Why did you do this to yourself?
Veronica: It looks a little midwestern mom.
Diana: It's the Kate Gosselin!
Kathleen: Is this definitely her real hair? And not a wig? She has such a goofy grin in this photo.
Veronica: It would be hilarious if she was all like, PSYCH!
Diana: She would be the type to do that.
Charlotte Cowles: It's really so terrible, but I don't think she would look so bad with a pixie cut overall. It's just this one.
Veronica: She needs to be like this. Not like this.
Charlotte: Or like this.
What does her cut mean? Is it for a movie role? Is she going through something traumatic? Is she simply tired of her old hair? Has she been watching reruns Jon and Kate Plus Eight? J.Law, we've been there. If you need recommendations for a good hair growth vitamin cocktail, call us! And if it's a joke, consider us gotten. PSYCH!
*Jennifer Lawrence and her new cut also made an afternoon trip to the Google offices, where she tried on Google glasses and starred in a GIF. From this angle, it looks more evenly lopped, and more pageboy than pixie. It also doesn't appear to be a wig. This further proves that all things are made more adorable in GIF-form.
*This post has been updated to reflect the new GIF.