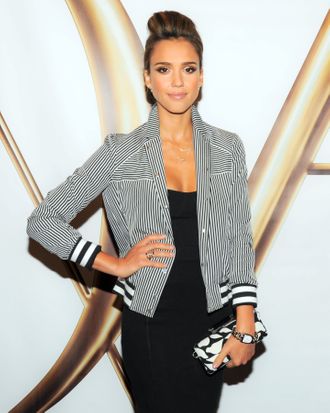 Photo: Neil Rasmus/BFAnyc.com/BFA NYC
Like Gwyneth Paltrow, Blake Lively, Alicia Silverstone, and countless other actresses before her, Jessica Alba is getting into the lifestyle business. The organic lifestyle, specifically, is her game. Alba is the president of the Honest Company, which fights the organic fight and successfully raised $52 million to do so.
And who are the power consumers that make the Honest Company so appealing to investors? Well, they're marketing to a consumer group with zero purchasing power, no clue what organic is, and a desire to spit up on wellness products. The Honest Company wants to drape the babies of the world in organic diapers and douse them in organic sunscreen. Perhaps their parents will help them save up to buy primo diapers.
Right now, the Honest Company is a website that allows subscribers to order monthly baskets containing organic wipes, organic diaper cakes, organic conditioning mists, and other such organic things. The new funding will be used for product development — so get ready for a bunch of other special, safe, well, healthy, ethical, wholesome things to be smug about owning.