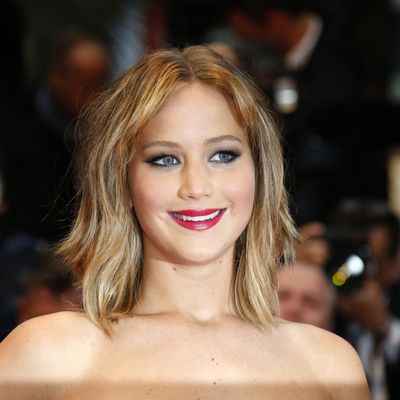 Photo: VALERY HACHE/AFP/Getty Images
Continuing evidence that America's imaginary best friend, Jennifer Lawrence, is a walking bundle of fun: She and her cast-mates got their booze on while filming the next Hunger Games movie.
She just has a lock on getting away with things! She turned taking a pre-red carpet shot, tripping up some stairs, and wearing low-cut dresses into further proof of her loveability. She's probably going to ride out a questionable pixie cut better than anyone else who has existed on the planet.
Anyway, during a Google Hangout Q&A, the cast chatted about their favorite day filming. Josh Hutcherson said they were "just running around acting like total idiots." And J.Law added:
We were drunk! That was fun. That was the first time I've ever drank at work!
Such fun! Wish we'd been there. Just hit us up and we'll try to stop by next time.