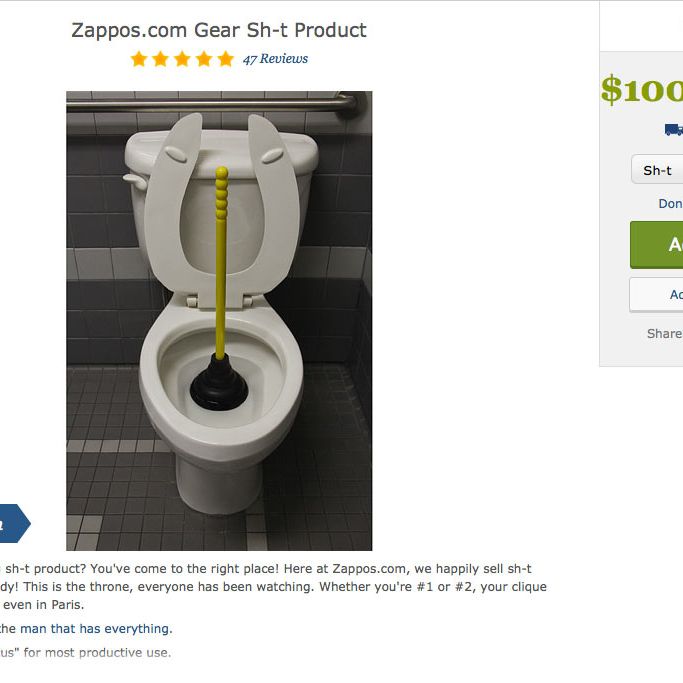 Earlier this week, Kanye West went on yet another one of his nonsensical rants during a podcast with author Bret Easton Ellis. This time, e-commerce website Zappos bore the brunt of his derision, apparently because he'd recently met with the company's CEO, Tony Hsieh, in Las Vegas:
I got into this giant argument with the head of Zappos that he's trying to tell me what I need to focus on. Meanwhile, he sells all this shit product to everybody, his whole thing is based off of selling shit product.
This would just be your garden-variety insult if it made sense, but it doesn't, because Zappos doesn't even make the products they sell. That's like saying Amazon sells "shit" books, or iTunes sells "shit" music. Anyway, Zappos reacted in the best way possible — rather than taking the high road (snooze) or acting hurt (lame), they made a witty joke about it. Behold: their genuine Sh-t Product. It costs $100,000, but in true Zappos fashion, it ships free! Here's more "item information":
• Interested in buying sh-t product? You've come to the right place! Here at Zappos.com, we happily sell sh-t products to everybody! This is the throne, everyone has been watching. Whether you're #1 or #2, your clique will show no mercy, even in Paris.
• The perfect gift for the man that has everything.
• Requires lots of "focus" for most productive use.
• Considered a "safety zone" when in arguments.
• Makes giant arguments seem much smaller.
• Caution: Do not place our Sh-t product near any fans.
• Avoid storms.
Taylor Swift will take two, please.