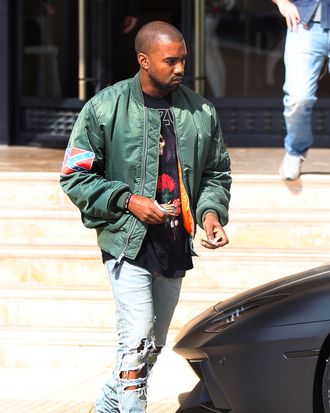 Kanye West.
Photo: Bauer-Griffin/FilmMagic
The Confederate flag is Kanye's new favorite motif. He put it on his Yeezus tour merchandise, wore it on the sleeve of his jacket on Saturday, and then, according to Us Weekly, wore that same jacket again on Monday, to Barneys in Beverly Hills. (That's twice in one week — a serious statement for someone who takes pride in his extensive closet.) When asked why he's such a fan of what many consider a symbol of white supremacy, he told L.A.'s 97.1 AMP that he's just trying to subvert its meaning:
React how you want … Any energy is good energy. You know the Confederate flag represented slavery in a way – that's my abstract take on what I know about it. So I made the song "New Slaves." So I took the Confederate flag and made it my flag. It's my flag. Now what are you going to do?
What, indeed? He later added:
It's colorless also. It's super-hood and super white-boy-approved at the same time … The world is classist. The world is racist.
No argument there. But his jaunt to Barneys was clearly much more than a just shopping trip, now that the store is embroiled in two lawsuits over charges of racial profiling, filed two weeks ago. Always quick to jump on any controversy, Kanye gave his opinion on the matter (as well as many other things) at a concert in Las Vegas last week:
Don't touch anything in the store. Excuse me, that's that "Can I help you, sir?" That's that racial profiling out in front of Barneys and sh-t. Talking about, "Did you steal that?"
So this was a symbolic trip to Barneys, you see. But the real question is, did he make any symbolic purchases? It is awfully hard to walk out of there empty-handed.