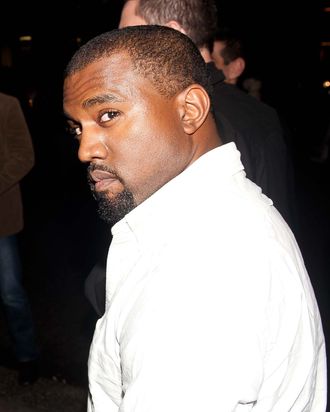 Photo: Niki Nikolova/FilmMagic
Kanye West is but a humble craftsman, attempting to pull himself up by his unreleased Nike Red Octobers and make something of himself in the world of simple attire.
But like all of us pedestrian plebes, Kanye struggles. And so this Saturday, West blew off some steam like a regular fellow in Madison Square Garden. He groused about the trouble of the everyman — that he was not recognized as a god in the realm of garments.
Specifically, Hedi Slimane, the current creative director of Saint Laurent and former designer of Dior Homme, did not acknowledge that Kanye was a god. Though Kanye admitted that he wrote "I Am a God" to Slimane and had hinted that Slimane thieves ideas from him, Kanye's emphasis of his divinity continues forth. His rant is autotuned for your enjoyment:
Now, New York even know who the fuck Hedi Slimane is so let me explain who the fuck he is. He was once a friend of mine, in the time of Christian Dior. And I used to wear his tight-ass jeans when I was on tour and get called names for it … And Hedi Slimane was a god who didn't serve no bullshit … But it takes a god to recognize another god. So when he told me you can come to my show, but you can't come to see Phoebe [Philo of Celine] and you can't come to see Riccardo [Tisci of Givenchy], that was odd. He tried to control me! He tried to tell me where I could go!
Though he rages — for who could tell a god not to go to the shows of his other two favorite designers? — Kanye cannot help but shout out Slimane's jeans in all his complaints (previously, he called them "nice pants").
A fashion god makes no fashion mistakes, for truly a fashion god is a gentle, generous god. A fashion god is kind; but he shows no mercy and will wrathfully call you out by name in front of thousands of people on a random Saturday night if you tell him he can't go to the Celine show.