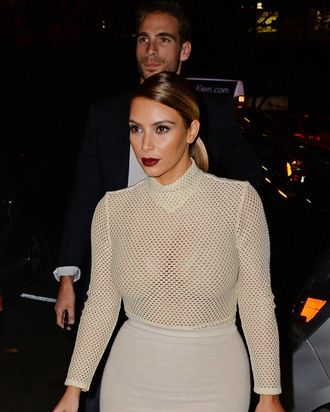 Photo: Josiah Kamau/BuzzFoto/FilmMagic
It was a tumultuous 24 hours for the Kardashian family and nipples.
• On Monday night, Kim Kardashian wore a mock turtleneck. It was a mesh mock turtleneck that caused her front to look like a butt, because there were no nipples to speak of. They seemed to be concealed beneath a nude bra. The effect was Barbie-esque.
• On Tuesday morning on Ellen, Kanye premiered his new "Bound 2" video, in which Kim Kardashian continued having no nipples. She displayed her breasts prominently, but they were blank: a protuberant flatness. It was as if the nipples were sanded away or plucked off and put in a drawer for safekeeping.
• At 2:29 p.m., TMZ posted the first appearance of Kendall Jenner's nipples. Her father, Bruce Jenner, approved.
When one Kardashian's nipples appear, another's disappear. Such is the law of conservation of matter. But though this is balance on the earth, the earth is replete with questions. Questions of: Why nipples? But also: Why not nipples? Ours is a confusing time. This has been a tale of two women, and of two nipples.