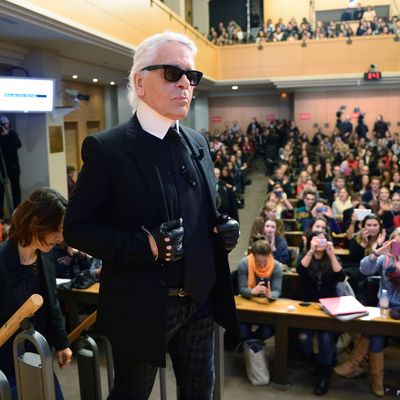 Lagerfeld unveils himself to an Instagram-happy class.
Photo: Eric Feferberg/AFP/Getty Images
Yesterday, 400 lucky students from Paris' Sciences Po University were audience to a "master class" given by Karl Lagerfeld. Though the university — which is known for its political and business bent — doesn't offer fashion courses, students had to fight their way into this one. "We knew about it at the start of the year and you had to be quick to get the tickets," one communications major told me. "Sciences Po isn't a fashion school, but this is where the best-looking, best-dressed students go," said her friend, as if to offer an explanation.
Lagerfeld has a reputation for being tardy (journalists have been known to be kept waiting for hours for an audience), but last night, he took his seat on time. After he was poured his ritualistic goblet of Coke Zero, he partook in an animated discussion with French journalist Françoise-Marie Santucci for almost two hours. Some of the boldest questions came from the open forum at the end, though, with one student awkwardly asking about his suggestion (years ago) that Haider Ackermann might succeed him once he leaves Chanel. Lagerfeld, of course, brushed it off gracefully.
From his daily routine to his obsession with Lorde, read highlights from the lecture:
On what Coco Chanel would have thought of his Chanel: "Along with the owners of Chanel, we choose to take a more violent approach to wake up the sleeping beauty. [I never met Chanel,] but she would have hated it. She hated everyone in the fashion business."
On his multi-tasking and on being a control freak: "Yes, I have a problem.  I need to do everything. I like making costumes, writing dialogues, being in the middle of everything."
On how the industry has changed since he started: "Fashion design in the fifties was a different world. In fact, it was a bit dull. You were paid next to nothing. It was really horrendous — the staff were not treated well.  At that time, it was really different to be a designer: We had to draw the dresses, there were no photocopiers, nothing. Of course, no young man or woman now would want to do that three-year learning process, for the minimum wage … we were working from 9 a.m. to 3 a.m."
On how he selects his team: "I hate the word hire. Most of the people who work with me came to me randomly. I did not hire them. I have a secretary who used to be my receptionist, or they are old interns. There are many people who work with me who have never worked with anyone else. It proves I'm not a monster. I have worked with my head seamstress for over 40 years."… "I don't have a boss-employee kind of relationship. I don't manage a company. They are not my employees: They are helping me to do what I do. Except having a few ideas and knowing what I want to do, I don't know how to do many things, [but] fortunately, some people know how to do them."
On how to adapt to changes in the industry: "I do not have a steady position. If you only have one view in the fashion business, you're screwed. Contrary to what some people say, elegance is not dead — it has just changed. We have to adapt to the era, not the other way around."…"I don't have any archives. Forgetting is essential. It has to stay in the subconscious. I don't go through my old designs. I have to do something lively. I am interested in things I haven't done yet."
On what Chanel and Fendi thought of his high street collaborations, with the likes of H&M: "They said nothing. It's really difficult to talk to me. I don't go to meetings, I don't know what marketing is."
On his daily routine: "In the morning, I wake up and read the newspaper, because I like paper. Then I draw at home. The time flies. I like the process of creation. Then in the afternoon, I go to Chanel."
On being one of the few designers who still sketches: "It was always the case before. Chanel didn't draw, she sewed. Madam Vionnet was different, she worked with a mannequin. Dior drew, but they were really simple sketches. Balmain, too."
On music: "The tragedy of my life is that I can't play the piano. I would have loved to. I love music. My passion at the moment is [singer] Lorde, a 16-year-old. She sung for something we had. Also, I love classical music."
On taking off his sunglasses: "Yes [I do], sometimes when I am home. I wear them because I am short-sighted though, so I need them."
On wanting his own brand to survive him: "I don't think about that. I don't care."
On his achievements: "You can always do better, that's why I keep on doing what I do."
His final piece of advice for the students: "I don't believe in general advice, every piece of advice should be individual. You should find your hobby and make it your passion."