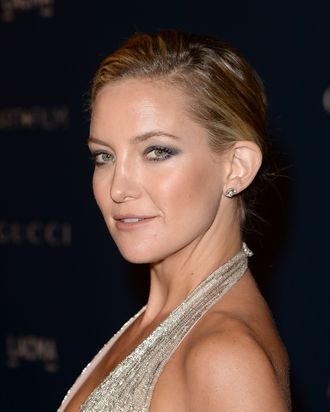 Photo: Jason Merritt/Getty Images
Kate Hudson — everyone's new celebrity BFF and the feel-good face of Almay — got on the phone with the Cut to talk about beauty. As you would expect from someone who waxes philosophical about leggings, she got a little poetic and playful while championing female empowerment, musing on CC cream, and telling grandma to lay off the Fracas.
Can I start by asking you a few questions?
No. [Laughs]
Okay! So we'll just sit here in silence…
[Laughs]
What is your favorite part of your makeup routine?
When it's done. [Laughs] My favorite part is when it's done and it looks okay. And the fact that I have Almay and it's easy. For me, I'm no-fuss. Whatever is easy to apply and give good results works for me.
Any mom would understand why I have a five-minute makeup routine. It's because of getting up early and school drop-off. My makeup can take up to twenty minutes, depending on the day and how crazy it is.
What does your makeup routine entail?
I love working with Almay because their products are easy, fast, and give good results that enhance your natural beauty rather than covering it up. For me, my favorite is the CC cream – it's light and doesn't feel heavy. I love the lip balm. There's a bit of mascara and some cream blush. If I'm feeling a little extra time, they did this new product called Shadow Softies, which are eyeshadows that are more powdery and blend really easily.
Even as a beauty editor, I sometimes have trouble explaining to my friends what a CC cream is. How would you explain a CC cream to your friends?
Uh, well for me, I'm not a makeup artist. It's obviously – what a CC cream is meant to do is to correct your complexion and even it out. It's like … a, uh…
A multi-tasker?
Yes! It's like everything in one. You put the foundation and moisturizer into one product.
Right, and it has a smoother, more blendable texture.
Right, right. [Laughs] You perhaps did better with answering that question.
It was a team effort! What interests you about beauty?
Its history.  There have always been women and an importance placed on the coming of age. How beauty has evolved is fascinating to me. It is something that is fun and a lot of women love to talk about it. We feel lucky that we get to have these things. We don't have to apologize for correctors under our eyes. We have fun with it.
Of all the characters you've played, whose beauty look did you most enjoy?
Four Feathers was really fun. But by the time you've been wearing a fifteen-pound wig and have a three-hour process in the makeup chair every day, you want nothing more than for it to be over. But Almost Famous was also fun, and that makeup look was basically nothing.
Your look in Almost Famous is iconic for a lot of people.
Natural makeup or enhancement of certain features shows that you are happy with yourself, and with being bare-skinned and naked. It feels confident and is quite wonderful. It should be something everyone wants to do. Everything needs to come with the inside out. It makes everything better. And then we get to play with beauty.
If someone were to ask me, "What do you wish for women as a whole and as a community?" I would say, "It starts with feeling good about where you are at. Also, what you're working towards and goals in your personal life." All that other beauty stuff is secondary and fun and what it should be, but it goes nicely along with what is on the inside.
What was your first scent memory?
My mom is a big scent person. But a lot of my initial scent memories come from my grandmother. She loved her perfume. Granted, they were very heavy. I remember walking into her room and it was like, Wheeeeeeeooahhhhhhhhhh, easy on the Fracas!  I come from a very oil-heavy family. My mom has traveled to India for many years. She has always been into oils and it's rubbed off on us.
But gardenias – my grandma and mom love it. We always had gardenia bushes and we would cut them and put them in bowls around the house.
Somehow, I imagine your family being a patchouli family.
I like patchouli when it cuts things. I don't like it as a whole. It's like when I went to a Phish concert at 15, I don't like it that much. I like incense – I like patchouli when it is cut with a neroli and orange blossom.
But I love scented candles. I like to go seasonal. I don't have one go-to.
What scent do you associate with the holidays?
It's food. I'm a big pie-baker.
What kind of pie?
Apple pie, specifically apple-caramel. I love smelling that in the house with cinnamon and cloves. My favorite all-time Christmas scent is Ralph Lauren Holiday. I think that's the perfect holiday scent. You walk into the house and everyone goes, "Mmmm. Christmas." [Sigh]
What type of candles do you like?
I'm all over the place. Everything from NEST to Blue Sky to Diptyque to Cire Trudon. Candles are one of those things that, they're a little bit obsessive. My new favorite one is Diptyque Eucalyptus.
I love walking into a room and smelling a candle. It's such an important scent. It can evoke anything from entering nature to being in the sequoias and moss, or being in the arid desert. For me, I just feel like a scent can really lift your mood.