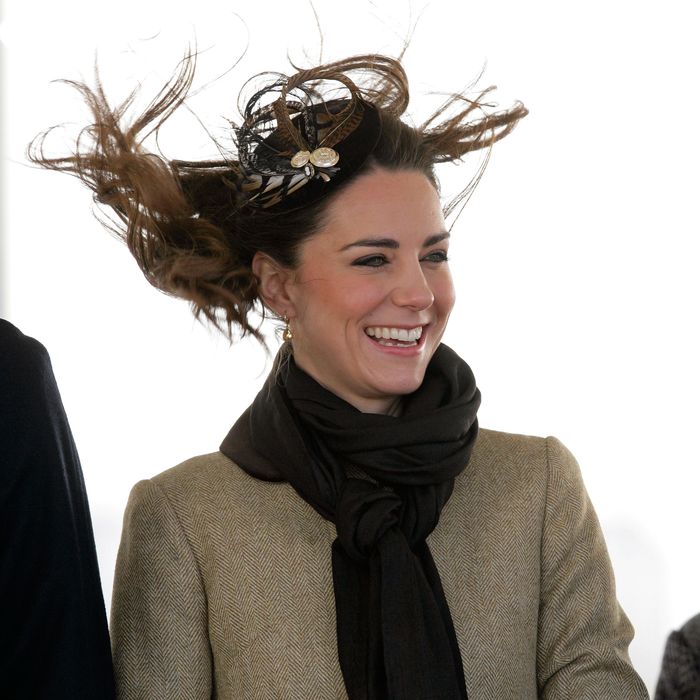 Grounds for firing.
Photo: Indigo/Getty Images
Remember when Kate Middleton (and some bald guy) traveled to North America, and she was so low-maintenance that she didn't even need a personal assistant or stylist or anything? But she did have one requirement: the company of her hairdresser, James Pryce. Kate and James met years ago when she started going to Richard Ward, the salon where he worked. He left to freelance in late 2011, and there were rumors of a rift between him and his colleagues, supposedly because they were jealous of his relationship to the Duchess. But now it seems her loyalties have changed. The Telegraph reports:
Pryce has not been able to retain his most famous client. "Richard Ward still cuts Kate's hair and she has her colour done at the salon," one of Pryce's fellow crimpers tells me.

"Plus, she has her stylist, Amanda Cook Tucker, who blow dries her hair for events, but James has really been pushed out."

Pryce took a job at Josh Wood Atelier, in Holland Park, where he now works part time. "He only works three days a week."
Rumor has it the Palace also took issue with him talking to the press about her hair, but Richard Ward talked just as much as Pryce did, so that seems dubious. Here's a new theory: perhaps the infamous bangs caused the rift. Saddling a woman with those bothersome wisps that just refuse to stay behind her ear is grounds for firing, certainly.