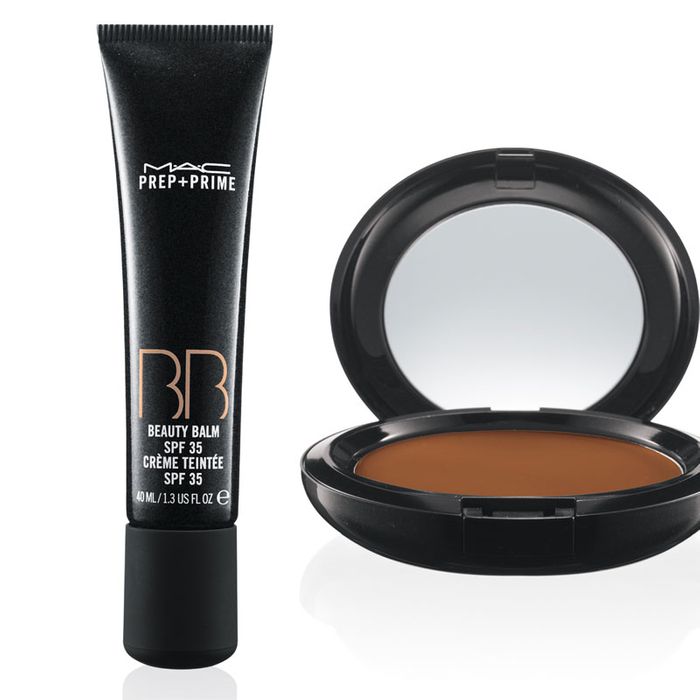 Beauty balms are great in theory. They streamline that moisturizer, SPF, primer, concealer, powder foundation dance that is both fussy-feeling and terrifying — after all, so much can go wrong with multi-step face prep. But for the past three years, I've found it nearly impossible to find a BB cream I like, or one that matches my skin. Enter a new line of beauty balms from MAC, which is my go-to brand for foundation. Would its Prep + Prime BB line be the ultimate in BBs? Let's hope so, because winter is upon us, and I need to start faking glowing, healthy skin.
I tested MAC's BB offerings in two formulations: its Beauty Balm SPF 35 — a light, tinted cream in a tube that wasn't oily but definitely moisturizing — and its Beauty Balm Compact SPF 30 (same formulation, using a compact delivery system). While MAC products normally offer a great range of skin tones, I was disappointed with the spectrum of colors for this compact. I had a total Goldilocks moment. The Medium Dark was just too light, and when I used the compact version, it looked like chalky, pancake makeup, while the Dark Plus looked like I was wearing fake tanner. All ends of the spectrum seem slightly yellow-based, so anyone with pink undertones to her skin will find the makeup might make her look a little dry. The cream version in the tube was more forgiving, and I found that by mixing two shades, I could get a perfect match.
I've been wearing MAC's Beauty Balm Cream SPF 35 nonstop, and I finally understand the magic of the all-in-one beauty balm. Every morning, it takes me about five minutes to make my skin look healthier, more glowing, clearer, more even-toned, and less blotchy, but nobody else can even tell I'm wearing makeup. It just looks like, for once, I've decided to start drinking the recommended daily dose of water.