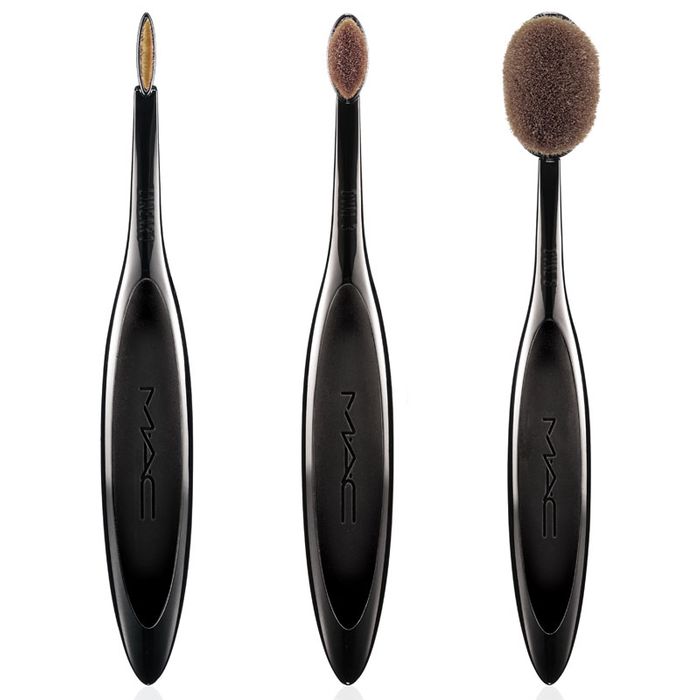 Back in the Stone Age, makeup brushes were primitively seen as short feathers attached to bones. Since then, makeup brush designs have evolved to resemble artists' paintbrushes. But MAC's "new" set of Masterclass brushes draws inspiration, unusually, from the prehistoric original.
Three new brushes, MAC's Oval 3, Linear 1, and Oval 6, resemble elegant, long-handled toothbrushes — or the dishwashing brushes you would use to caulk hardened cheese off a dish you made two nights ago. Which is exactly why MAC Master Artist Keri Blair cautions against instinct when deciding how to use the brush. "It's really more of a buffing motion," she explained of the suggested application technique. "Do not use this like you would a Sonicare toothbrush." Other suggested motions: "swiping and gliding," moving the brush up and down in a swishing motion, and stamping (for eyeliner).
Like toothbrushes, the Masterclass brushes share similarities in intended grip and bristle size. Designed to be used parallel to the face instead of aimed directly at it, the brush gives the user the ability to do her own makeup without obstructing her point of view (regardless of whether she is left- or right-handed). Constructed out of short cosmo-fiber (a high-end, velvety-soft synthetic hair), the brushes' hairs are extruded, instead of cut, with a taper on every single bristle. If you move the pad of your finger over the Masterclass brushes, you'll notice that they make a slight wave motion, with longer bristles concentrated in the middle, to ergonomically fit in the peaks and valleys of facial architecture.
When put to the test, I found Linear 1 and Oval 6 to be my favorites. The Oval 6's large brush pad is great for buffing and blending foundation. Using a range of motions, it gave a soft-finish effect that didn't look dense or heavy or obviously painted-on. If you apply full-coverage foundation on your face, this is a good option for when you want a more precisely blended look than using your hands. I liked using the Linear 1 vertically for brushing through my eyebrows and smoothing out eyeshadow application. For me, the Oval 3 pad was a tad too large to apply eye-shadow, but may be suitable for those with more distance between their eyes and brows.