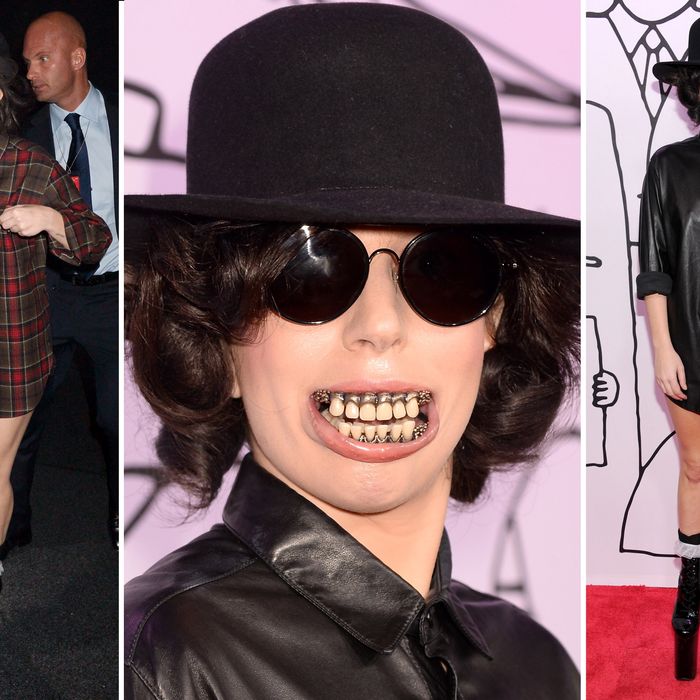 Lady Gaga.
Photo: Jeff Kravitz/FilmMagic; Dimitrios Kambouris/Getty Images
At last night's YouTube Music Awards, Lady Gaga — coming off an exhausting week of epic outfits that even we couldn't keep track of — went back to the basics: a simple collared shirt, buttoned chastely to the neck, balanced with bare legs, towering platforms, and ruffly little-girl socks. But, being Gaga's, her ensemble had an element of surprise. When she clomped onto the carpet, her face nearly obscured with sunglasses and a Saint Laurent–style wide-brimmed hat, she bared her teeth to reveal a top and bottom set of truly frightening dentures. (Don't worry: She took them out to sing — see below.)
While the overall effect of her metallic gums and crooked teeth was rather unpleasant, she gets points for exploring new ground. Dental bling obviously isn't a new phenomenon, but fake buck teeth with sparkly metal gums? Definitely untrodden territory. That is, if anyone can bring themselves to care what Gaga's wearing these days. Her wardrobe has become like one of those sushi conveyor belts — there's never enough time to decide if something looks interesting before it's whisked off and replaced with the next.