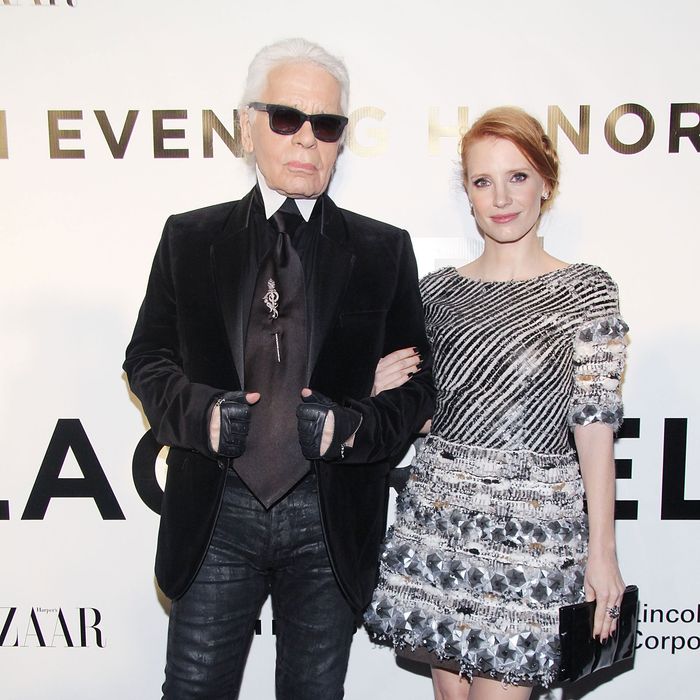 Karl Lagerfeld and Jessica Chastain.
Photo: Mireya Acierto/Getty Images
Last night, Karl Lagerfeld allowed himself to be interviewed by actress Jessica Chastain at Alice Tully Hall. The world never needs an excuse to hear him talk, but this event doubled as a fundraiser for Lincoln Center's various arts programs, including Chastain's alma mater, Juilliard. During the hour-long discussion, they touched on all of Lagerfeld's beloved subjects — sketching, Choupette, and silent films — as well as his less favorite ones, like sweatpants.
Over the years, Lagerfeld's deadpan and audacious comments have come across as offensive, even borderline insane, but watching him speak extensively, it's obvious that he is never serious. Every statement is delivered with a knowing nod and a flap of his gloved hand, as if to say, "I'm only joking." It's clear that his wit is not only a talent, but a coping mechanism: When he was young, his mother would slap him if he didn't speak decisively and cleverly enough. 
Although there were some notable exclusions from the discussion — that recent lawsuit over his comments about "curvy" women, for one — Lagerfeld delivered a number of revelatory facts, opinions, and stories. Here are our top thirteen Lagerfeld quotes.
1. On His Childhood
J: I want to know what baby Karl was like. Did you come out in sunglasses?
K: Apparently very cute. But mothers always say that.
J: I read that you said your childhood dream was to not be a child.
K: I hated it! I hated when people came up to me and said, "How was school?" And things like that. I hated to be treated as a child. I thought it was the worst situation. I never spoke to people like that. I turned my back to them, and never spoke to them again. I wanted to be grown-up.
J: Were you drawing as a child?
K: I'm born with a pencil in my hand. I did lots of sketching. I've only wanted paper and beautiful colors. It was my dream, and it still is my dream. And books. They're all I need, and the rest I can do without.
J: Did you study to draw?
K: No. I'm all self-taught. I never had a teacher. Even for English, and French, and German, I hardly went to school. When I was 6, I could speak English. Very badly, but people can understand what I say. So my parents were not too scared that I was a hopeless case.
2. On His Mother
J: I heard that you said that compared to your mom, you're a shrinking violet.
K: She was really tough in the way that she talked to people. It was on the border of being mean, but was it was so funny, ah? I'm not sure that I'm that funny. You know, I had to be quick. For her, everything in life, you had to answer quickly and it had to be funny. If, ten minutes later, it was, "Oh, I shouldn't have said that," she'd slap my face.
J: Do you think you take after your mom at all?
K: No. My mother used to say to me, "You look [like] me, but not as good."
J: When did you feel that your parents understood your place in fashion?
K: My mother never saw a show of my work, because she said, "I do not want to go see people my son works for." And at the end of her life, when she was 70, she decided she would not wear skirts anymore. "Long skirts make me old, and the short skirts" — this was the sixties —  "they're for the young girls." So she couldn't care less about what I was making. She loved Sonia Rykiel.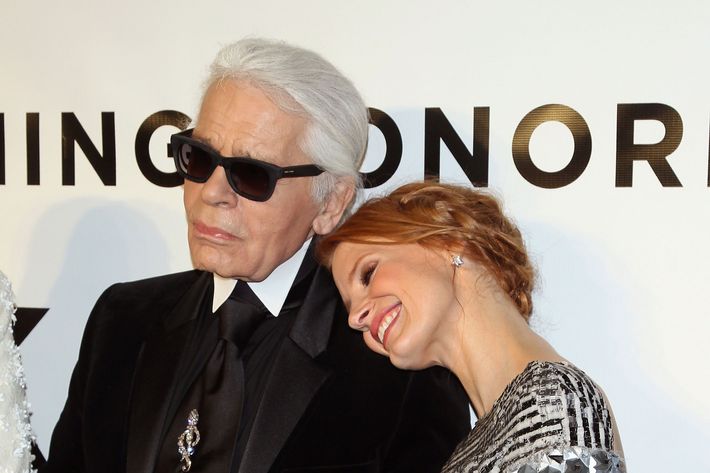 3. On Red Carpets
J: What do you think of the red carpet?
K: It is a little too much sometimes. Especially when you see all those mermaids and fishtail gowns, going in to see movies about poor girls in Eastern Europe, there's something a little shocking about it.
J: Do you feel pressure about who's wearing your dresses?
K: No, no. Maybe some designers do, but if I can say something pretentious, I'm afraid I'm beyond that. And Chanel and Fendi are fashion. The typical cartoon of the red carpet, that's not fashion. It's always the same typical silhouette. But the red carpet, it's something that exists. For some people, the photo-call is part of their daily lives, so.
4. On His Famous Karl-isms
J: You're like a modern-day Oscar Wilde.
K: I hope I end up better.
J: Well, I once heard you say something that I thought Oscar Wilde would say, which is, "Dieting is the game you win by losing."
K: Yes. I said that?
J: You said that!
K: Yes! You win when you lose, it's true.
5. On His Career's Beginnings
J: What were your first experiences in fashion?
K: Well, I wanted to become an illustrator of fashion, so I studied every book and every costume from any kind of period. You know, I wanted to become a cartoon artist. But fashion I loved, and when I started, I thought, I could make a better living with this kind of business. And when I started, my mother said, "Oh, it is good, it shows that you are not a snob because otherwise you would never do a job like this." Then it was not trendy to be in fashion. But I was always interested in what people were supposed to wear, and what I was supposed to wear. I loved clothes.
J: What was your first job?
K: Well, I won a contest. There were 200,000 people in the world who entered a contest that was held by an Australian, and I sent in a sketch and forgot about it, and six months later I got a telegram — because in those days you got a telegram — telling me that I had won the first prize for my sketch. I mean, out of 200,000 people, that's not that bad. Then, Pierre Balmain was supposed to make the coat in his workroom [from the sketch] for his presentation. And he asked me what I wanted to do. And I said, "I love fashion." And he said, "You want to work in fashion?" And I said, "Yes, why not?" And he said, "Work for me, you sketch very well." So I asked my parents, to see if I could leave school, and my parents said, "Try, and if it's not working, go back school." So I left for two years with the idea, if it's not working, then I go back to school. And [school] was not my favorite occupation. I did not want to go back to school and sit with other idiots.
J: How old were you?
K: 18 or 19. I can't quite remember … but I was not born to be an assistant. Everyone must be an assistant for a short time, but if you are endlessly an assistant, then there's no hope … So after three years, I was asked to work for Jean Patou. I had nice cars and lots of holidays. I was a ballroom dancing champion. It was fun. But it was only two collections a year, of sixty dresses, and I was bored. So I started doing freelance collections with Chloe, and lots of things. And it was very interesting. I did that for twenty years. But then I got the job with Chanel. And everybody said, "Don't touch it. It's dead." Now, heritage brands are big, but in those days, when a brand was dead, it was dead. But when people said it was dead and hopeless, I said it was interesting. And since 1965 I have done Fendi, one of the best fur companies in Italy. So I'm very happy that I have an Italian version, a French version, and then I have my own company, but I'm not obsessed by my name. Some people are, "Oh, my name," but I couldn't care less about my name. What I like is the job. The ego trip of that comes later.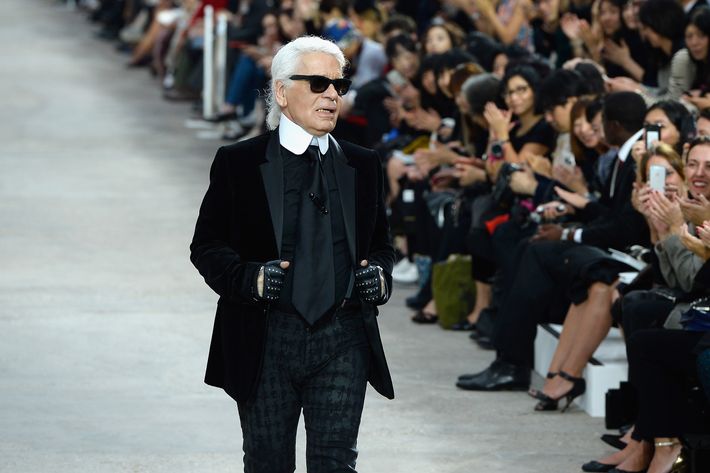 6. On His Multiple Design Projects
K: I did H&M because today, fashion has to be well-designed, expensive or not expensive. I think it's very important to make well-designed, modern clothes that are not too expensive. To make only very expensive clothes, it's very démodé. And I am also doing couture. I am a completely different person when I am working on different collections. And I have no personality, as you see, so you know, it's easy. You cannot say that one is better or worse. It's completely different.
7. On His Multiple Personalities
J: Do you have a different personality when you speak different languages?
K: When I speak German, I have a strange accent, and French, too — it's the way I talk. But when I speak German, I cannot translate it, because I would not say the same thing. When I speak French, I have another way of saying something. My Italian is not very good. But in Italy, you don't have to make an effort. You know, in England, if you don't speak a certain kind of English, and they look at you like, ah. [Makes a suspicious face.] Here they speak all kinds of English, so it's not a problem. In Germany, there's parts of the country I cannot understand. In Bavaria, I don't even think they're speaking the same language.
J: How many languages do you speak?
K: Only German, French, and English, and I can speak Italian, but not as well. But my father spoke nine. He wanted me, as a child, to learn Russian. And when I was a child, I can tell you, Russia was not an easy country to be enchanted by.
J: How does that work, to have these three different personalities?
K: Well, when I am talking to you, I forget about the other two. I adapt easily. I have no personality.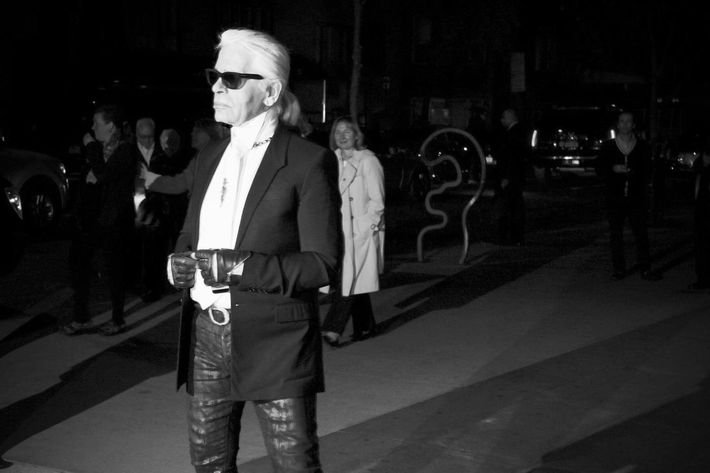 8. On Sketching Everything
J: You sketch all of your designs, right?
K: Yes. Lots of designers have people to do it for them, on the computer. But I do everything myself, and I like physically the work of sketching. I also do political cartoons, but a lot of them must stay, as they say, under the coat. But they are very fun to do, and in France, we have a good subject at the moment. But I love it, and it was what I wanted to do at the beginning.
J: And you sleep with a sketchbook by your bed?
K: Yes, because sometimes I have ideas before I wake up, and if I don't put it on paper I forget it immediately. This is a full-time job, 24 hours a day. This is not a job when you say, "I have to be ready at 8." I could not do that because I would be late. I am always late. I was born three weeks late, and I say, I never got that time back.
9. On Choupette
J: How did you get Choupette? Because you had dogs before.
K: Well dogs, you need a country house, and you need to walk them in the street, and I cannot walk in the street anymore. I mean, you know, in the age of cell phones, forget about it. In the city, cats are very easy to keep, because they are so clean. She is the most beautiful cat in the world.
J: When was the first time you saw Choupette?
K: She was not mine. A friend of mine [Ed. note: It was male model and Lagerfeld muse Baptiste Giabiconi], he had to travel, and he asked if I could take her into my house, where people could take care of her. And when he came back two weeks later, I said, "I'm sorry, Choupette will stay." And he was very sweet. He got another one. But she is not as good as Choupette.
J: How has she influenced you?
K: It is always difficult to analyze influence, but perhaps she helped me become a nicer person. Because there's something very touching about her. And she is spoiled beyond.
J: I'm sure she's the most spoiled cat in the world.
K: But I was spoiled, too, so I can spoil my cat.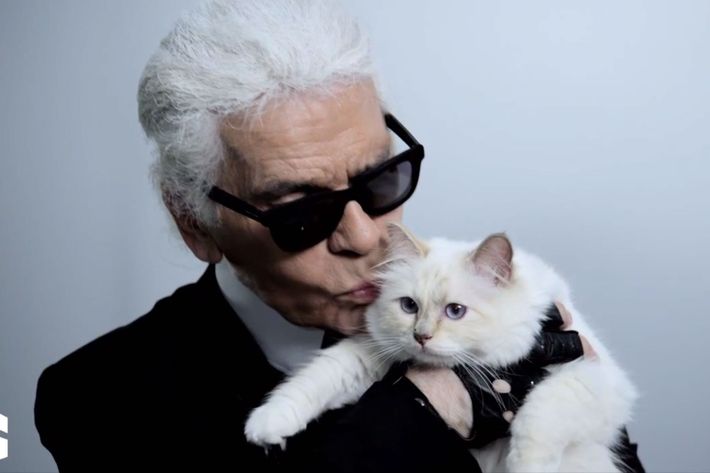 10. On Sobriety
J: What do you do for fun? You don't drink, and you don't do drugs.
K: I am very boring, but it has allowed me to survive better than other people. If you don't drink, you don't smoke, and you don't do drugs, and you're not missing it and never even wanted it, and you sleep for seven hours. I tell you, life is quite pleasant. You don't feel tired or exhausted or things like that. You get out of bed and it's time for the day. I'm quite boring.
J: You're probably the moral center of all your friends, who drink and —  I don't know if they do drugs, but … how does that feel?
K: Yes, I would hate to be friends with people like me. It is too boring. I can make believe I'm not so boring, but in fact, I can't help but think about what I am supposed to be doing.
11. On Intellectualism … and Paper
J: What are you reading now?
K: You know, I read ten books at the same time, in three languages. No subject bothers me. Normally, I'm mad for poetry. But that's not the subject for this kind of conversation. I don't want to sound like a cultivated intellectual person. I hate to have those discussions because I am only interested in my opinion, not other people's.
J: So you don't read off your iPad?
K: No. I was born a paper freak, and I will die a paper freak. It is my favorite material. Paper is the most important thing in life.
12. On Sweatpants
J: Do you own a pair of sweatpants?
K: What?
J: Sweatpants.
K: Hot pants?
J: Well, sweatpants OR hot pants?
K: Oh, no.
J: What do your pajamas look like?
K: I will tell you when we have small talk later. [Ed. note: He once told Harper's Bazaar that he wears "a long, full-length white shirt, in a material called poplin imperial, made for me by Hilditch & Key in Paris after a design of a 17th-century men's nightshirt I saw at the Victoria and Albert Museum."]
13. On Influences:
J: I know that you love silent films. How has that influenced you?
K: I prefer not to answer that question, because it's all, how can I say, a little off-focus. I don't know, and I don't want to know. Ideas come and go, but I like to make it my own. Be influenced, but don't put words on it. And I like to think it's my idea. My main problem is that I'm never happy with what I do. I always think it could be better, I am lazy, I could improve. I don't like designers who like to talk about the past, who keep the dresses. I don't keep anything. You want a sketch? I have to make one. Dresses? I have nothing. I love the job. I love it for doing it, not for having done.