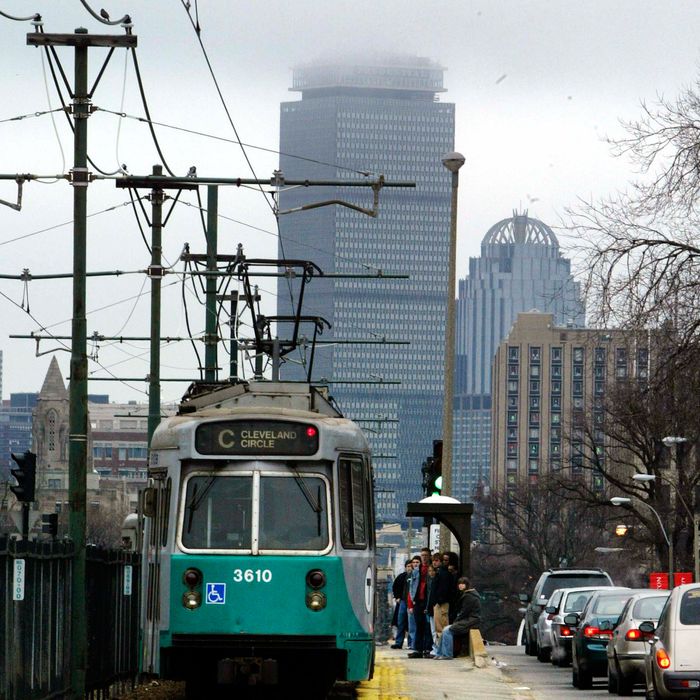 Photo: Brian Snyder/Corbis
Can women reasonably expect privacy inside their skirts? The question — which previously divided the pervy libertarians of Reddit and its now-defunct "Creepshots" board — worked its way up to the Massachusetts State Supreme Judicial Court this week. Andover man Michael Robertson, 31, was arrested in 2010 when an undercover transit cop on the Boston T caught him surreptitiously taking pictures of a woman's crotch with his phone at waist level, the Merrimack Valley Eagle-Tribune reports (h/t Jezebel). His trial was stayed pending an appeal to the state's highest court.
There, the State argued that women have an understandable expectation not to be treated like a medical-textbook model in a public setting, and that because of the camera angle, Robertson was able to see more of his subject's body than she had exposed. Robertson's lawyer, who is a woman, :(, argued that it doesn't count because you couldn't even see anything (the target wore underwear) and the Peeping Tom laws used to arrest him violate his First Amendment Rights. "For example, say a woman is breast feeding in public and someone who is morally opposed to this or even a journalist takes a picture," said attorney Michelle Mankin. "The woman may be covered but for some reason the picture shows a little bit of her breast. Now, that person who took the photo can be charged with the same thing." Won't you think of the people who are morally opposed to breast-feeding in public?