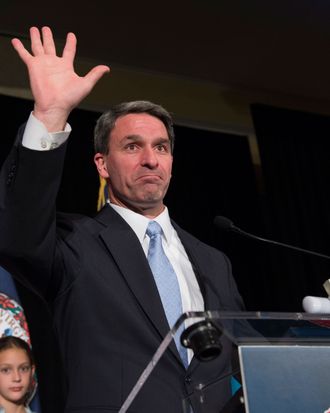 Photo: Nikki Kahn/The Washington Post/Getty Images
By electing Democrat Terry McAuliffe yesterday, Virginia residents narrowly avoided life under one of the most radically anti-choice candidates in recent history, Ken Cuccinelli. (He has compared abortion to slavery.) Thank God women turned out at the polls to defend reproductive justice, just like in 2012, right? Not exactly. The New York Times broke down exit polls by gender and ethnicity, revealing a majority of white women  — 54 percent — voted for Cuccinelli, patron of crisis pregnancy centers.
Meanwhile, a whopping 91 percent of black women and 90 percent of black men voted for McAuliffe. According to the Daily Beast, African-American turnout was four percent higher than in 2009, matching Obama's 2012 reelection levels. So much for the mighty single-issue pro-choice voter.