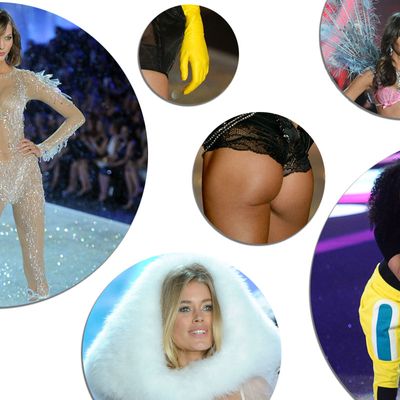 Another year, another Victoria's Secret Fashion Show! Or, as the announcer put it, "the greatest fashion event in the world." There were no awkward cultural misappropriations this year, but still plenty to gawk at. Below, a list of our revelations from the evening.
1. The very cute male "stagehands," dressed in black jeans and tight t-shirts emblazoned with the word "backstage," were actually maiters. We even recognized one from the Cut's maiter tribute this summer. Sadly, tonight they held velvet ropes instead of cocktails.
2. The runway was covered in glitter. Because, of course! Flecks of it even got kicked into the air when the models stomped extra fiercely, creating a nice halo of sparkles around their feet.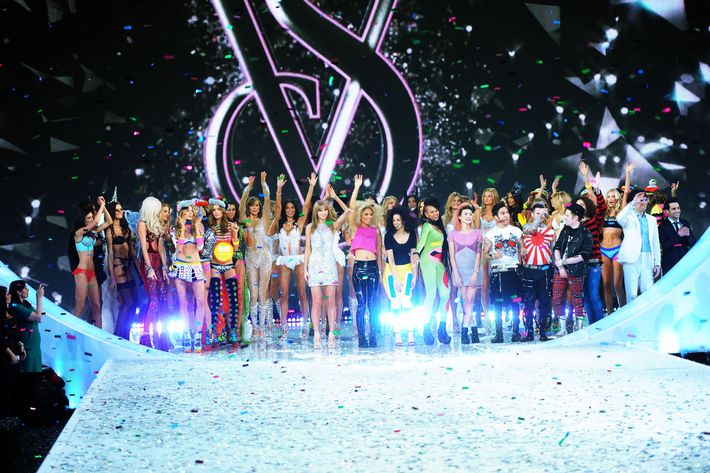 3. Speaking of sparkles, Karlie Kloss wore a nude body stocking, strategically embroidered with crystals.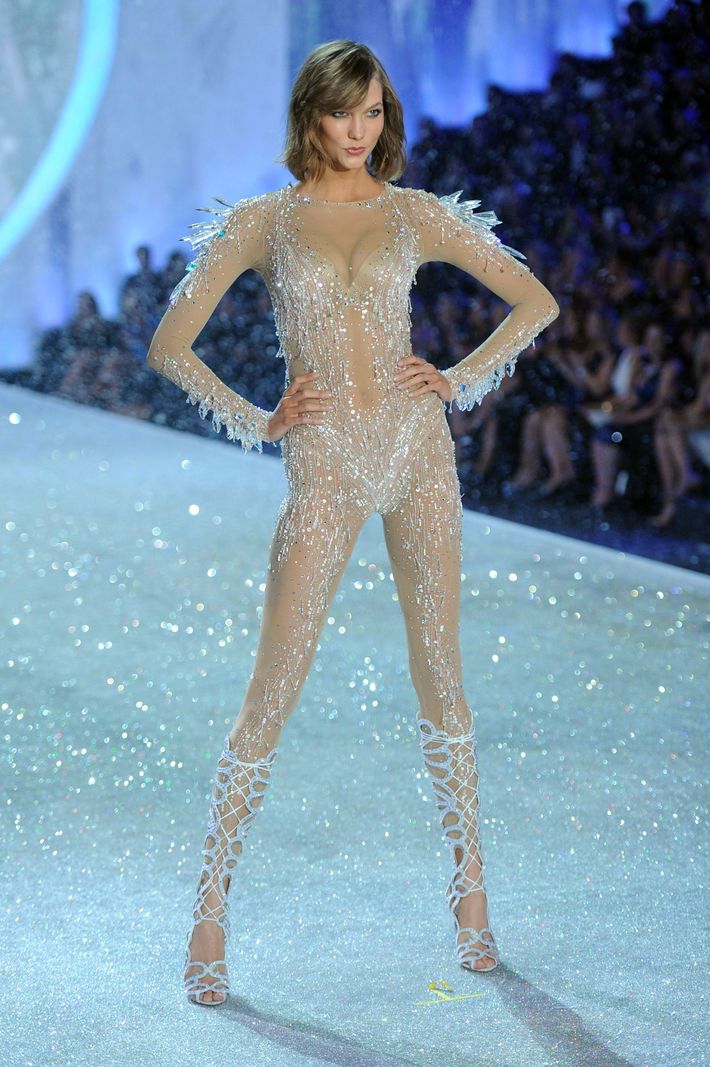 4. And despite rumors to the contrary, Cara Delevingne did walk in the show, first with a soccer ball that she almost dropped…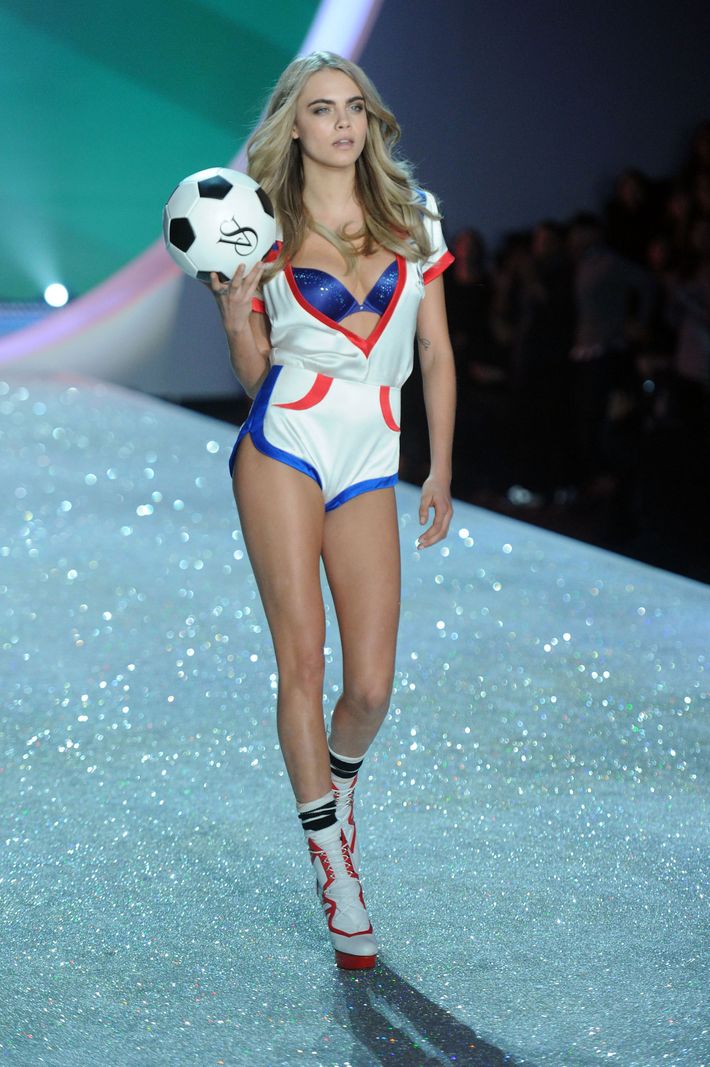 … and then with a pair of inexplicable yellow gloves, like what you wear to wash dishes.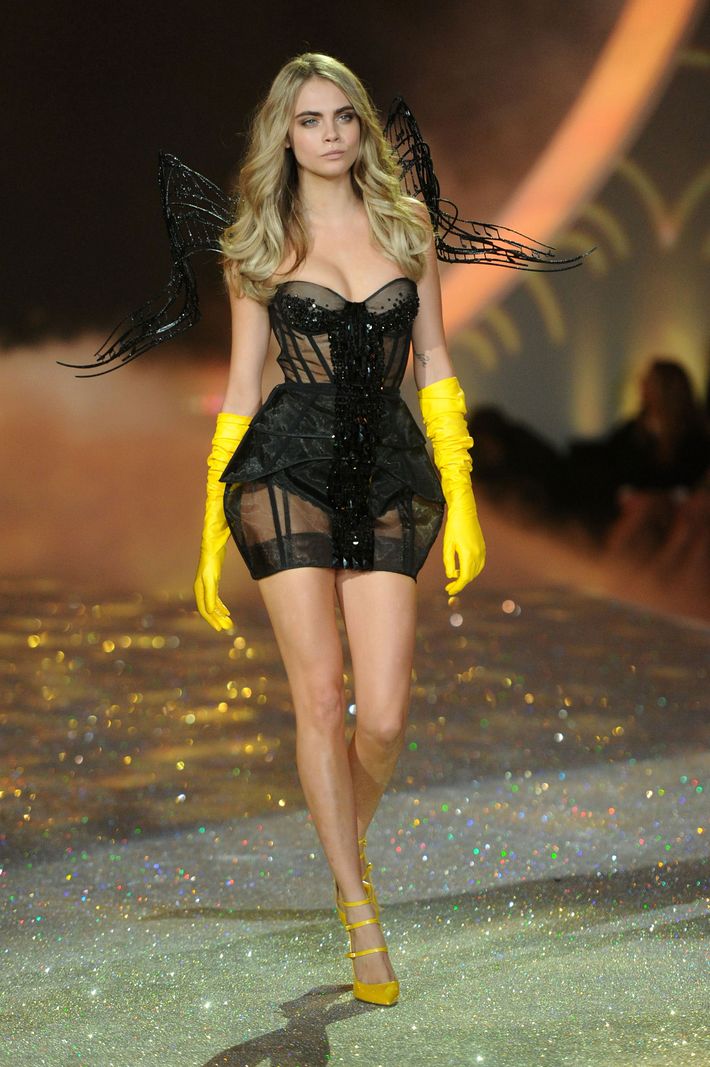 5. It was tough to discern Taylor Swift, the evening's big-name performer, from the models —  she too has long hair, long legs, and an impressive strut. During the "Brittania"-themed portion of the evening, she wore a British flag dress and a tiny top hat: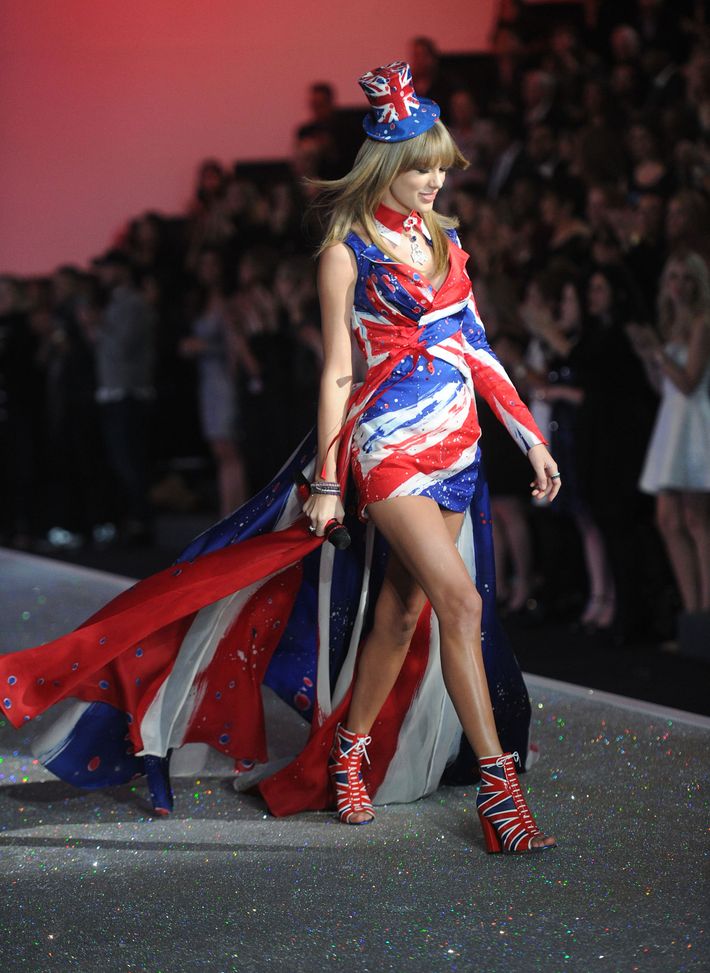 She later changed into a sequined micro-mini, because when in Rome!
6. Joan Smalls is simply not capable of looking tacky. She is elegant even dressed as a green, leather-trussed bird.
7. The appearance of Behati Prinsloo, Adam Levine's fiancée, garnered a standing ovation from the Maroon 5 band members in the front row. Levine has officially taken over Orlando Bloom's role as Victoria's Secret Angel supportive husband-in-chief.
8. One of the acts was "shipwreck"-themed, which meant the models walked with tattered wings, as though they were damaged sailboats — or castaways in shredded clothes but miraculously perfect underwear.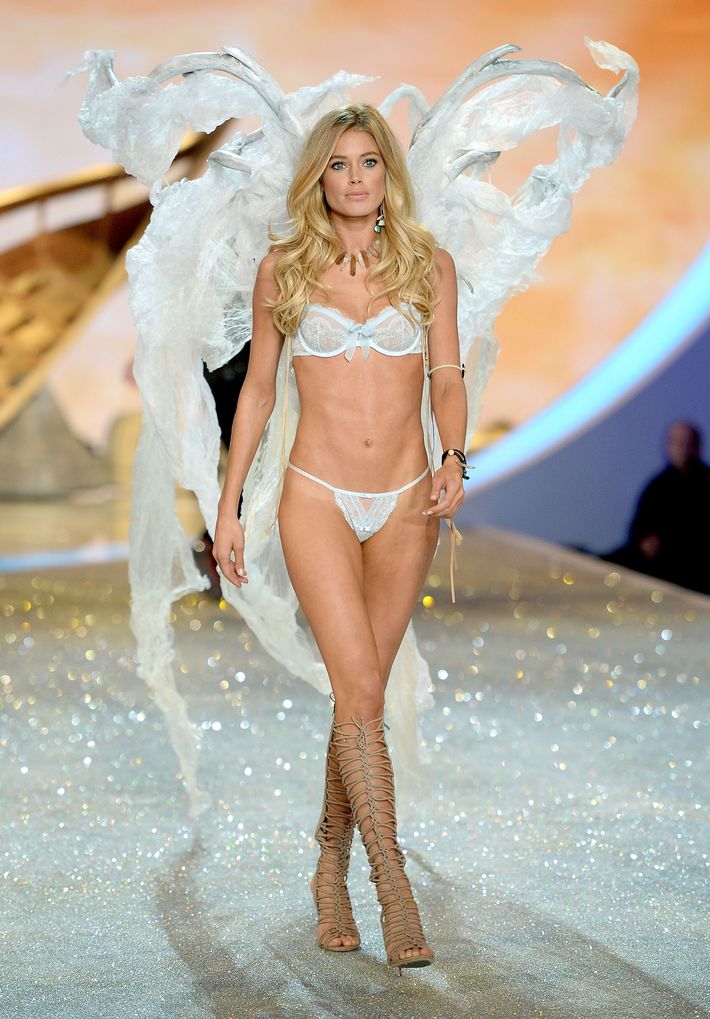 8. Girl group Neon Jungle is officially the next Spice Girls (or maybe En Vogue?), only with even more outlandish spandex. Audience members dutifully twirl their rave-y light-up toys while they performed, which looked cooler than expected.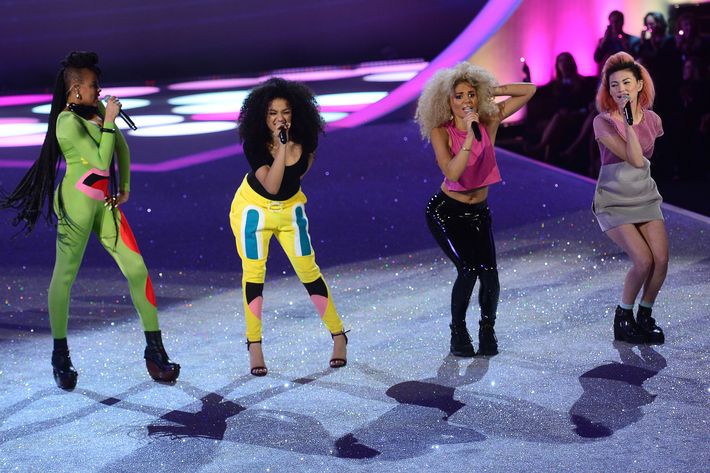 9. Doutzen Kroes as an Eskimo, with inexplicable fur cuffs. A nod to Altuzarra's giant mittens? Eh, probably not.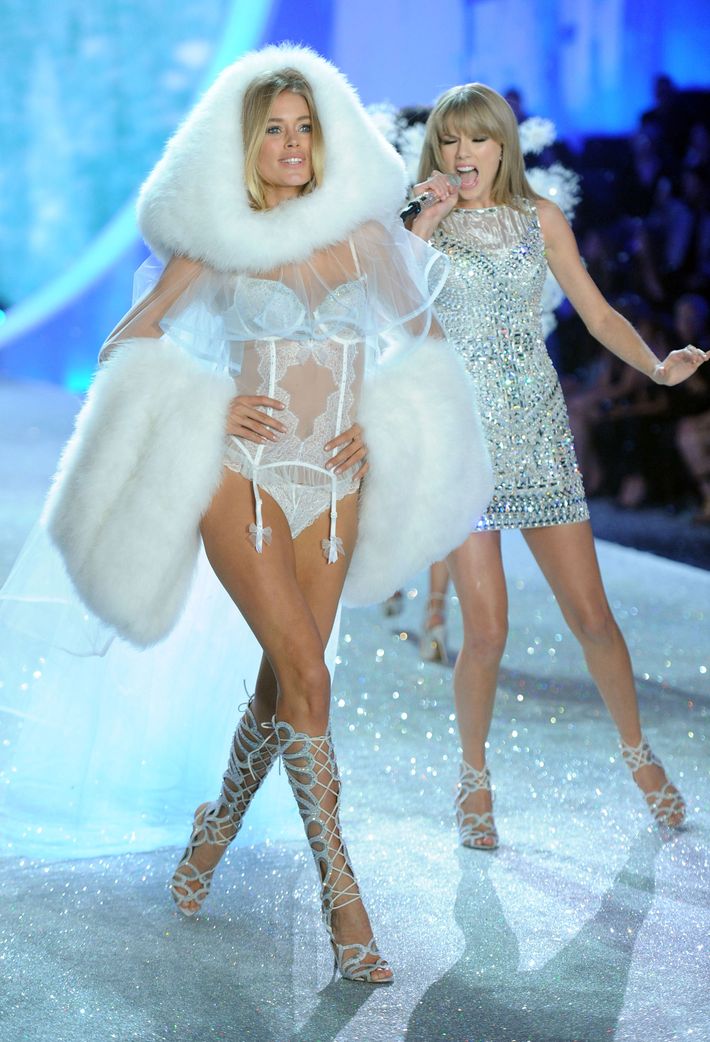 10. As always, the Angels' butts were covered with just enough fabric to stay out of thong territory. By some feat of science, they were perpetually tiptoeing around wedgie-land but always managed to keep their cheeks contained. It's a fine line.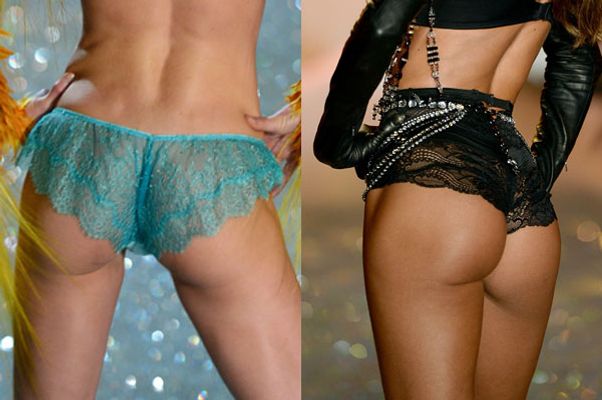 11. Oh, and Fall Out Boy took the stage, in man-capris and checkered Vans! As we overheard one person say, "They're probably just as surprised they're performing as we are." Ah, Victoria's Secret. You've always got something up your furry non-sleeve.