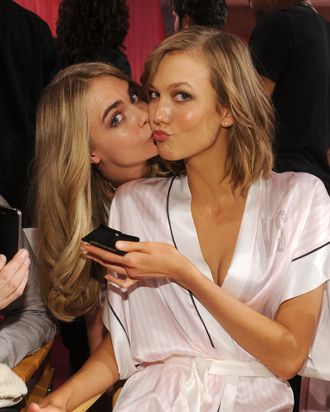 Photo: Jamie McCarthy/Getty Images
Last year, we noted that the backstage scene at Victoria's Secret was one of complete control. And this year —  well, things got a little looser. Yes, most of the quinoa from catering was gone while the brownies stayed put. Yes, the Angels positioned themselves to be shot near good light sources and from the most flattering angles at all times. Yes, they asserted they all worked really hard on their bodies. Sadly, there was no Taylor Swift lip syncing. But this year, to our delight, beauty went a little bit rogue.
"A couple of girls are sneaking off and doing their own contouring and mascara," Dick Page, the head makeup artist for the show, joked to me backstage. "It's not as crazy as it used to be in the Christy-Naomi days, though."
This time, Page envisioned more of a simple, warm, tawny-rosy look — as opposed to the bronzy glam cliché of Victoria's Secret's previous shows. "There's a little focus around the eyes, but it's just brown pencil blended with shadow on top, with a little bit of gold. A little concealer, foundation, if it's needed, with a slight trace of balm."
We were fans of the new look, but we had to ask: No bronzer?!
"No bronzer. The focal point is a flushed cheek, with a reddish-brown lipstick which we swept along the nose and the cheeks and diffused using the tips of the brush bristles."
So that girl over there with bronzed cheeks?
"Yeah, some girls are bronzed — but that has nothing to do with me! [Laughs.]
And the lashes?
"There's a little bit of mascara, but some have on not as much as they would like — which is why they go off and do it on their own." [Laughs.]
No false lashes?
"I really don't like it when you can see the lashes very obviously, especially in HD. So we pulled that back a little bit."
Eyeliner?
"No, we really weren't looking for harsh lines or shadows. The pencil blends into the shadow. Of course, now a girl comes by with a solid eye line … [Laughs.]
But never fear, that perfect, beachy wave remains a Victoria's Secret constant. "Oh, anything's possible," Orlando Pita replied when I asked whether Victoria's Secret and beach waves could ever be mutually exclusive. "I don't know when that day will be. Not today … but it's something that's been established as a Victoria's Secret look." We're pulling for the day that pixie cuts and full model makeup Macgyvers are a Victoria's Secret "look."