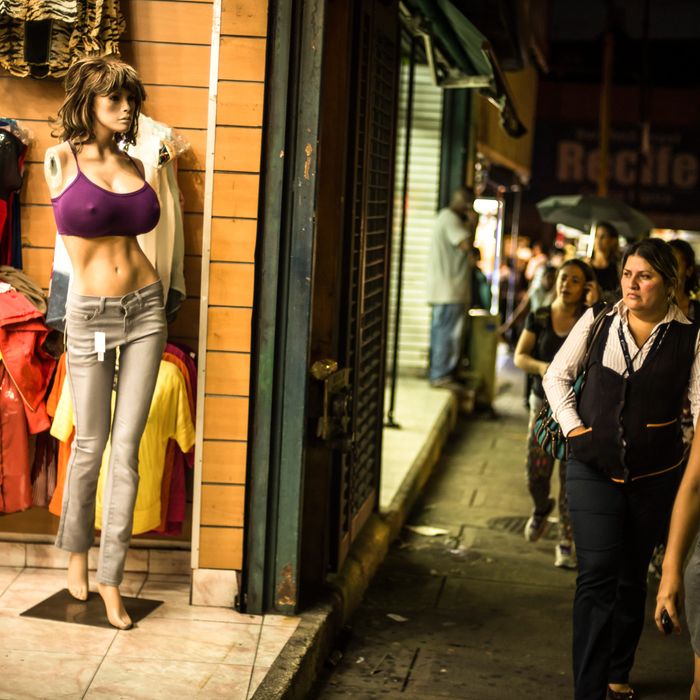 Photo: MERIDITH KOHUT/The New York Times
In stores across Venezuela, clothes are modeled by bizarre mannequins with "bulging bosom and cantilevered buttocks, a wasp waist and long legs," says The New York Times. According to Eliezer Álvarez, the designer of the fiberglass femmes, they are based on his perceptions of the way Venezuelan women actually look. Unsurprisingly, they seem to be inspiring a new normal standard of cartoon-busty women. It's a chicken/egg situation — is life imitating big-boobed mannequins, or vice-versa? Putting aside the impossible, damaging beauty standard of these plastic women, not to mention how they jar with Venezuela's socialist politics, surely this can't be the best way to get someone to buy a tube top? But I digress.
According to the Times, the mannequins reflect a long-standing cultural investment in "buena presencia," the idea that everyone should be "a hard worker, a good worker, and an honest person." How better to show the world your moral fiber than super-pumping your boobs and flattening your abs? So now, more women are risking both their lives and their financial well-being to get sketchy butt injections and breast implants in hope of becoming one of the trendy "operated women" that look more and more like Álvarez's mannequins:
"You see a woman like this and you say, 'Wow, I want to look like her,'" said Reina Parada, as she sanded a mannequin torso in the workshop. Although she cannot afford it, she said, she would like to get implant surgery someday. "It gives you better self-esteem."
Also interviewed in the Times story: Osmel Sousa, head of the Miss Venezuela pageant and inner beauty truth-teller who would like credit for the body-modification craze, too. Three decades ago, Sousa suggested Miss Venezuela get a nose job. She won Miss Universe, and the country's attitude towards plastic surgery became far more casual and fashionable. His reasoning? "If it can be easily fixed with surgery, then why not do it? I say that inner beauty doesn't exist. That's something that unpretty women invented to justify themselves."
And here's where we wish this story became a cheesy eighties movie and the mannequins could talk. We're pretty sure they'd tell all these dudes to STFU and leave their bodies alone.