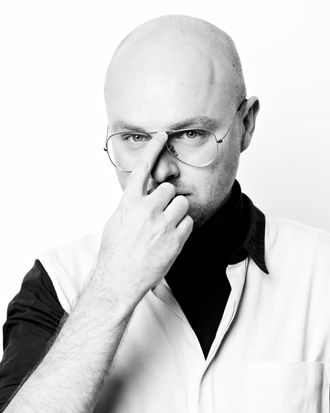 In hindsight, Topshop's new creative design consultant Geoffrey J. Finch was always destined for the job. The Australian designer – long since adopted by the U.K. – is better known as creative director of the cult London fashion label Antipodium, where his collections are packed with sly pop culture references (Miss Piggy, Cher Horowitz, Dee-Lite) and delivered in neons, metallics, and pastels ("I love a sickly color," he tells me). They represent the sort of young, confident irreverence that Topshop customers thrive on.
So when the retailer announced in September that it had brought him onboard, working under creative director Kate Phelan and alongside head of design Emma Farrow, it made sense. And it's especially well-deserved when you take a look at his résumé.
When Finch joined Antipodium in 2004, it was a retailer and agency that brought Australian brands to the British market. He started as an intern, spotted the opportunity for the company to produce its own line, and rapidly worked his way up to creative director. Now the label is stocked in 65 stores internationally, including American Two Shot, Owen, and Otte in New York.
Finch, now 31, was approached by Topshop in March of this year. "The call came out of the blue, and I was utterly thrilled," he says. He's now in the company's London office three days a week, working with a 40-person design team across clothing, shoes, bags, accessories, swimwear, lingerie, and makeup. To keep his own label going, he's had to learn to delegate. "What's really nice is that Antipodium has grown so much, we're now able to bring on more people – so I can focus on product, rather than wondering whether we have enough recycling bags," he jokes. "I may or may not be a slight control freak."
Control freak or not, Finch is likable, unpretentious. Over martinis at a bar in central London, a conversation with Finch touches on everyone from Dolly Parton to Whitney Houston – with a few teen soaps thrown in (he's a die-hard fan of the eighties Canadian show Degrassi Junior High). His old friend Emma Elwick-Bates, style editor of British Vogue, describes Finch in an e-mail as "the ultimate social ATV (all terrains vehicle) – you can take him anywhere. Ever charming, with a mischievous sense of humor."
Finch was born in Queensland — "Toowoomba. I should Google this, but I believe the name might be Aboriginal for swamp" — and, as a teenager, visited France on an exchange program, where he stumbled into a course on haute couture. (His plan up to that point had been to study law, because "boys from country Queensland aren't really supposed to do fashion.") While living there, he visited London and fell in love with the city. "It was the year 2000, and I thought I was being really modern. I remember going to [the nightclub] G-A-Y by myself, aged 17, and thinking, Wow, everyone's super-friendly! I was so naïve – I knew nothing of the world." He was determined to move to London permanently – which he finally managed in 2004. "I arrived on the 23rd June, wearing oversized green tracksuit pants, Adidas boxing boots and a tuxedo jacket, of course. Hey, guys, I'm here!"
His style has, naturally, evolved since then. When we meet, he's wearing a sharp Antipodium shirt in the Double Take print designed by the artists Craig and Karl. (Antipodium doesn't currently make menswear, but "that doesn't stop me from knocking through a few shirts for myself," he says.) It's covered with tiny stills of the famous leg-crossing scene in Basic Instinct. "As a child, I was obsessed with Sharon Stone. I came from a very Catholic family, so I guess I found her quite risqué. This print has retailed really well – I think people like pop-culture references."
That kind of subversive detail is liberally sprinkled through his collections: kissing piglets, emojis, naughty teddy bears. It feels like an aesthetic that will translate well to his Topshop work. "Topshop is properly popular culture, with an enormous reach," he points out. "It's a magical thing, and if I can help influence it positively, I'll be a very satisfied man."
It can't hurt that his designs already have a Zeitgeisty appeal with the right kind of celebrity. Alexa Chung is Antipodium's best-known fan, and has recently been photographed wearing the Intersection coat, made of tapestry in mixed animal prints. I ask Finch whether the coat is selling well, and he nods. "I once read that Miuccia Prada said, 'Women can't resist anything animal.' She was quite right." But he acknowledges that Chung's influence always helps. "When she was starting out in her career, [Antipodium] also happened to be starting out," he says. "She came to us, and we got on. She wears our clothes quite naturally, which is really nice – it's not like, I'm going to tweet this shit."
Having always sold online or through other retailers, Finch and his business partner Ashe Peacock have plans to open Antipodium's first pop-up shop in London next year. "We're looking at options at the moment – particularly for spring/summer '14 with the Attention Shoppers collection." He adds, "Basically I just want to stand there and say, 'Let's fold scarves.'" And with that, we're off into a long conversation about Romy and Michelle's High School Reunion.