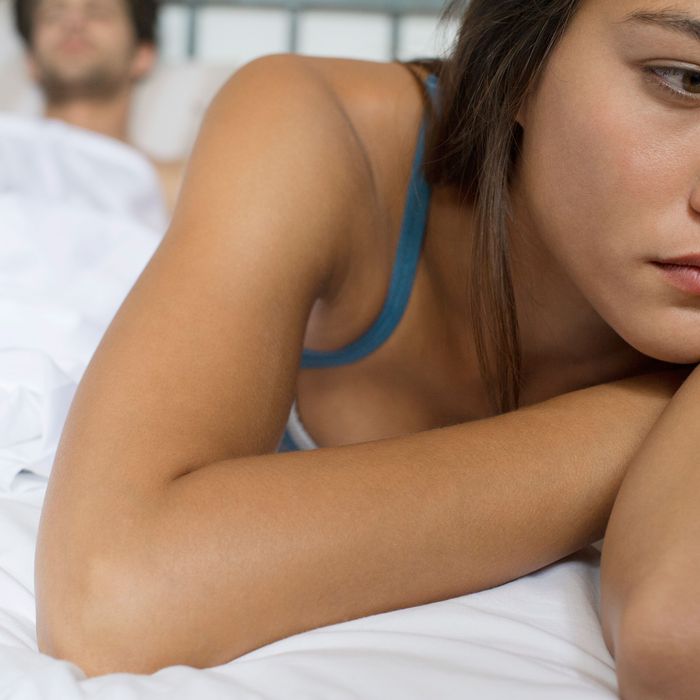 Photo: Frederic Cirou/Corbis
In the 15 years since it hit the market, Viagra has remained a reliable punchline. The ubiquity of male sexual dysfunction drugs where no female equivalents exist — and their coverage by health insurers where even women's contraceptive is not — is regularly held up as proof of a lingering sexual double standard. But not for much longer. Two emerging drugs take very different approaches to female hypoactive sexual desire disorder, or an emotionally distressing low libido. In the spring, the New York Times Magazine reported that Lybrido, a promising combination of randy-making testosterone and the same genital blood-rush agent that's in Viagra, could be in pharmacies as soon as 2016. Lesser known but not far behind, is Lorexys, a combination of two antidepressants that are already on the market. It has been fast-tracked by the FDA and is about halfway through clinical trials. Oh, and it might also work for men. Lorexys developer S1 Biopharma's CEO Nick Sitchon and chief medical officer Dr. Robert Pyke laid it out for the Cut.
How is it that I'm talking to a couple of guys about women's sexual dysfunction?
Nick Sitchon, CEO: When I set off to start the company, I was considering a number of different conditions, when my mom joked about developing something for her low libido— after eventually getting over the chills from that idea— I thought maybe libido could potentially be a good indication. Desire disorders are a big hole in the patient population that's not being served due to the conservative nature of the pharmaceutical industry, which is reluctant to undertake it. I was able to bring together a group of clinicians who were already involved with treating women with hypoactive sexual desire disorder (HSDD). It's a new indication, so it's a small vanguard — a handful of experts who have studied the disorder and treated patients firsthand. The majority of our board members are female, by design, to avoid the whole too-many-men-in-the-room thing.
What differentiates Lorexys from Lybrido, the lust drug that got a lot of press earlier this year?
Sitchon: Their philosophy is quite apart from ours, which is that the largest sexual organ in the body is the brain. A hormonal approach, like Lybrido, is not only potentially dangerous, with the long-term effects that have yet to be seen, but the benefit is marginal compared to a central nervous system approach. Our chief medical lead, Robert Pyke, was part of the multi-hundred-million-dollar development of Flibanserin, the only central nervous system–active drug that's been pursued on a large scale for HSDD.
Lorexys is made up of antidepressants; I was under the impression antidepressants caused low libidos.
Dr. Robert Pyke, CMO: There are two antidepressants that don't cause sexual dysfunction: bupropion, a.k.a. Wellbutrin, and trazodone, a.k.a. Oleptro. Our consultants and I all had experience using these two together to treat depressed patients and help them get over the sexual dysfunction that either their depression or their SSRIs — their former antidepressants — were causing.
So how do two antidepressants add up to an increased libido?
Pyke: Well, bupropion is already prescribed off label for HSDD; it's one of the few options besides talk therapy, but it's only going to have a marginal pro-sexual benefit. The way it works is through stimulation. But there's a dual-control mechanism that seems to be operative in sexual desire in everything from humans to rats: The brain controls a set of functions on stimulation and a separate system on inhibition. So one of the things I tried to push was to combine the stimulating agent with one that would work on the serotonin side, to block the sexual inhibition that serotonin causes — that cuts sex drive and arousal and orgasm.
A very careful ratio was needed because the overall side effect profiles of these agents are opposing: Bupropion increases heart rate, causing insomnia, whereas the trazodone increases fatigue, drowsiness, can lower the level of consciousness. From the early trials, it looks like these two work not additively but synergistically to help sexual functioning, but we have to get the exact right ratio so it's not too sedative or too stimulant.
Will it also make women happier?
Pyke: Maybe it will. Subclinical doses appear to be useful. We don't know yet. It's certainly not our focus. But it's something, as a responsible pharmaceutical company, we must find out, how this affects people's mood.
Why does sexual dysfunction tend to get talked about as a psychiatric problem in women but a physiological one in men?
Pyke: Well, it's not. Desire disorders do exist in men, separately from erectile dysfunction or low testosterone, in between 5 and 10 percent of men. At least half of the men who get a Viagra prescription never refill it. It's a lot more complex than: Do I have an erection or not? It's actually: Do I desire? Do I desire this mate? Some research shows that men are even more concerned about it than women. Women attribute desire disorders to a relationship problem, whereas men feel their whole identity is at stake.
Are you testing Lorexys on married or single women?
Pyke: Dating, cohabiting, married — as long as the relationship is at least one year in duration. We're stuck in that monogamy paradigm. It's not that we think the focus should be on people in long-term relationships, but there's no other way to determine a baseline for sexual activity.
What are women in trials saying?
Pyke: Instead of only having patients check boxes — a scale of one to five — I ask them to provide overall responses, in 25 words or less. Some of them are very staid. We must keep their quotes confidential while the study is in progress, but, in effect, the women who rated themselves as much improved said things like, This is improving my sex life, not only during sex but it is helping me get interested. Or even, I've had more desire than I've ever had in my entire life.
Will Lorexys work on men?
Sitchon: We are pursuing male HSDD, as well as female sexual arousal disorder and treatment-resistant HSDD.
Pyke: The men's will have a somewhat different formulation, a slightly different dosing. Men have a little better tolerability.