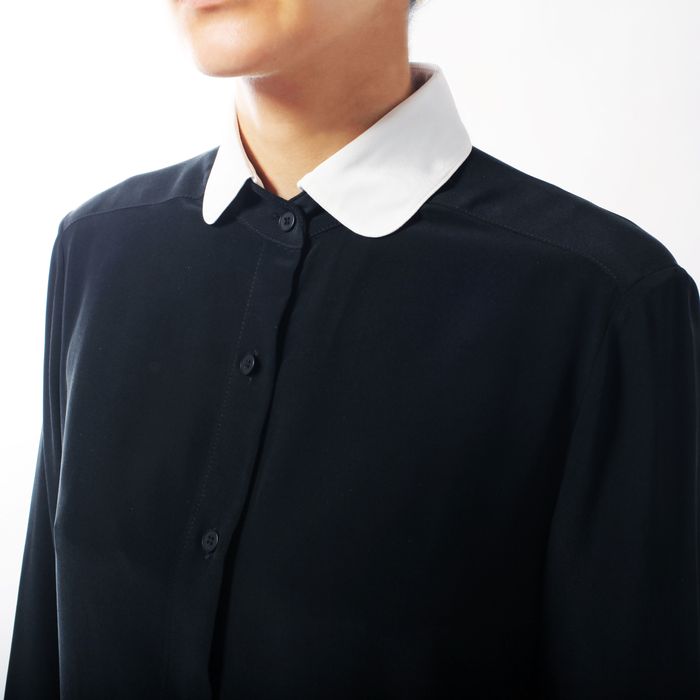 Marieclaire St. John is solving the perrenial problem of how to transition from daytime into evening with a surprisingly simple solution: Change your collar.
With her international childhood (she grew up in Italy with British parents), she references both Italian pattern-making and Savile Row tailoring with DRESSHIRT, a new line of shirts outfitted with removable collars that can be interchanged to fit any situation. The silk shirts, which feel supple to the touch, are available at $195 in a classic range of white, black, and grey. (New colors will soon be introduced, such as marigold yellow and olive green.) Collars come in an array of spreads (classic, pointed, and rounded Peter Pan), colors, and fabrics (a soft glittering pink for evening, a white eyelet lace for meeting the parents).
We love anything that makes dressing more versatile and fun, so we sat down with St. John to hear more about the shirts — and her unexpected love of gorillas.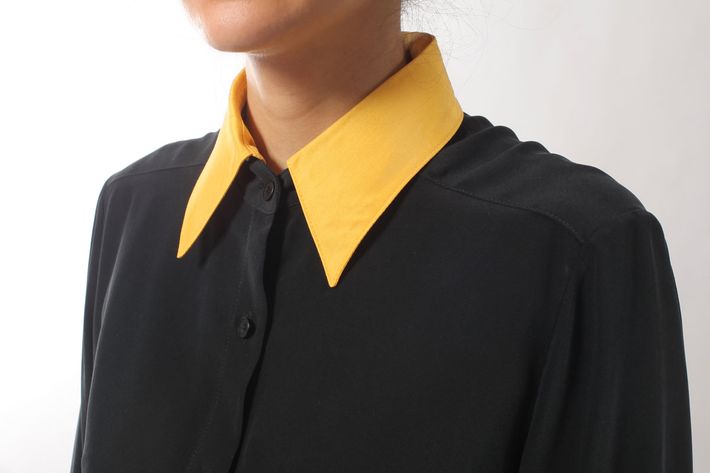 So tell me, what was the driving idea behind this shirt? 
I've always been a fan of menswear on women. I was a tomboy as a child, always looking up to my big brother, and as I got older, I would steal my boyfriends' shirts and wear them out all over the place. My biggest problem was while I loved the oversized, boyish feeling it gave me, I hated how it totally obscured my figure. A grown woman wants to feel powerful, sexy, and cool in her clothes, so I set out to redesign the man's dress shirt, but perfectly fit for a woman's body.
It reminds me of the removable paper collars and cuffs men wore in the twenties. So practical.  
I think women spend so much on their clothing, I want them to be able to get some mileage out of it! It allows women to continue reinventing their garment over and over again. It simplifies the day-to-night dilemma, allowing the customer to wear a more casual collar to the office, like a simple white Peter Pan collar, with the option of switching to a dressier collar, like the metallic chiffon spread collar, for a night on the town.
So you think you might do the same for cuffs?  (Please say yes.)
I have all kinds of tricks up my sleeve! (Get it?)  The DRESSHIRT cuffs are convertible, so you can button them, or you can cufflink them through a button-hole next to the button. I'm currently developing a line of cufflinks that will be a fun way of accessorizing and give the buyer even more creative freedom.
Fashion-wise, what are you into at the moment? 
I'm all about oxfords, loafers, and sneakers. (Yes, I really take the menswear-for-women mantra to heart.) I have these great white suede Ralph Lauren oxfords that I am so excited to wear in the cooler weather. I hate how people think white is only for summer. Also, [I'm] newly in love with the Twins for Peace velvet sneakers you posted about a few weeks ago — I have to get my hands on a pair ASAP!
Yes, those are amazing. 
As for the rest of life (What? Life exists outside of fashion??) I love to travel — I just got back from an incredible gorilla-trekking experience in Uganda and am going to Myanmar for the holidays with my family.
Gorillas? 
It took forever to get there — let me tell you, it was no small feat hiking in the Impenetrable Forest — they call it that for a reason! But it was so worth it. Spending time with the gorillas in their natural habitat was the must humbling and beautiful experience I will probably ever have. The rules were that you had to stay two meters from them, but that they could go as close to you as they please! They are gentle giants though, we saw several Silverbacks, their troops, and a 7-month-old baby that was playing in a tree. It's shocking how much they are like us, they look you straight in the eye and you really feel like they understand you.