If you find yourself stranded far from home this holiday travel week from hell — cold, and maybe a little self-pitying — think of Jynne Dilling Martin. Better yet, read her. The poet, book publicist, and champion of women writers is in the midst of a six-week stint as the Antarctic artist-in-residence, a post once held by Werner Herzog. Through the National Science Foundation program, Dilling Martin is learning hardcore snow survival skills and shadowing scientists with the hopes of increasing our national interest in and understanding of the Antarctic — first with her Tumblr, and later, with her poems. The Cut e-mailed with Dilling Martin about bunny boots, polar inspiration, and the bar scene at the bottom of the world before she headed back out with the seal team.
Cold enough for ya? And this is summer in Antarctica, right? Is it light all day long?
As the polar explorer Aspley Cherry-Garrard wrote, "It was -40 at the time, which we would later learn was not so cold at all, but was plenty cold enough for us at the time." I've had to recalibrate my entire scale for what's cold or not cold. And I never thought I would grow to hate the sun, but 24 hours of full daylight, radiating off a vast continent of snow and ice, becomes relentless. No matter how much you tape up your window, light sneaks through. It gives many of us very strange dreams.
What's a day in the life of the Antarctic artist-in-residence? What made you apply for it?
I've dreamed of going to Antarctica since I was a child — I've always been fascinated by the wildest corners of the earth, and to get to come here for six weeks and actually embed with the scientists, and spend time up close with the animals, is an incredible opportunity. Every single day for me is different: hanging out with seals, exploring ice caves, learning to drive snowmobiles, trips with the scuba team that dives under the sea ice, snow survival school. And each evening, there is an astounding number of recreation options for a relatively small place: yoga, Pilates, chess club, band room, dodgeball, fiction workshop, meditation, rock wall climb, singing group, craft room — I could go on and on. It maintains the sanity of everyone who is trapped at McMurdo Station for six months or a year at a time, and it's all volunteer-run. I've been doing my part by teaching a few yoga classes.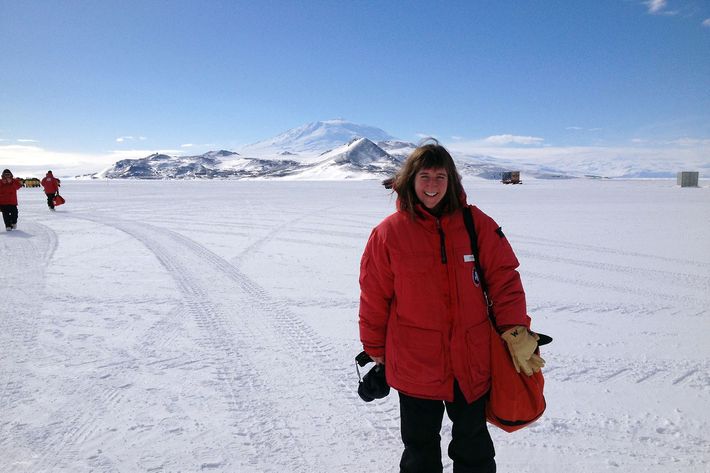 The NSF program allows you to observe scientists in the field. How will their work inform your poetry?
I felt an initial wave of discomfort when it fully sunk in that I now had the responsibility to write poetry about Antarctica — it felt a little like being the bard of a Tudor royal court. But once I arrived, I've been so overwhelmed by new vernaculars, images, and information that my output exploded. I'm almost two Moleskines deep already from all the note-taking. A few sample words from today's cafeteria lunch conversation: fata morgana, phonolite bombs, nemertine worms.
Writers love to complain about how Twitter and other forms of digital connectivity are ruining the craft.  What's the remoteness doing for your productivity? Are your areas of poetic inquiry changing?
I've been writing a lot about the polar explorers of yore. I was already in awe of them before coming, but now that I've stood wearing four layers of Patagonia gear with a dozen hand-warmer packets going and still shivering like crazy, I am really speechless about what they did. I mean, they were wearing hand-sewn, ill-fitting reindeer skin, eating cold canned pemmican, and living alone in this snow for years at a time.
Has the relocation changed your writing process at all?
The biggest difference is having wide swaths of open time to write. (Which I do have most days here, despite the daily Antarctic activity frenzy!) It's not something I have back in Brooklyn, where my job at Riverhead Books, plus my partner, cats, errands, and social life tend to fill my days.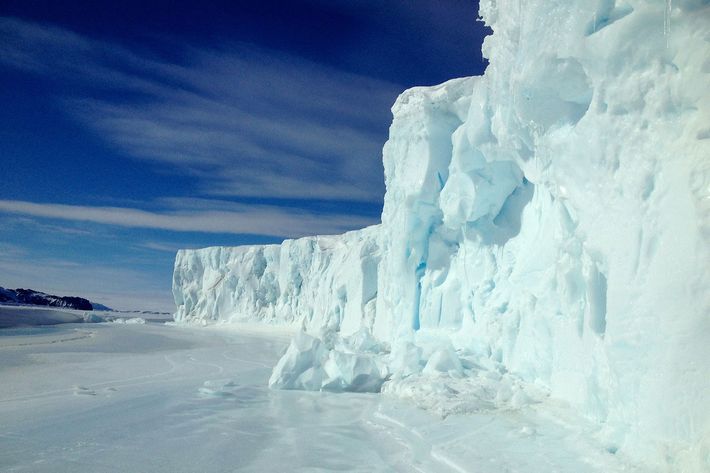 My favorite part of any adventure story, including your blog, is the description of the gear. I especially loved the boots with valves that must be opened so they don't explode on the plane. Any other unusual Antarctic must-haves?
The bunny boots are sensational — I will say my toes never get cold in them, even when the rest of me is going numb. They're enormous, well-insulated, waterproof boots, so all the scientists who work in slush, snow, and ice have to wear them. But they weigh seven pounds, so clomping about in them for an entire day gets exhausting. My favorite gear item is the famous Big Red, which is the cavernous standard-issue parka we all get; it has something like twenty pockets, so I am alway losing my nephew's Lego yeti mini figure somewhere inside it. And an Antarctic must-have: high-end UV protection sunglasses. On sunny days, you'll have a headache within about five minutes of not wearing them, and soon thereafter, the sunlight will actually burn your corneas and blind you.
Is there anything you wish you'd packed?
My beloved Gorilla coffee beans. I knew the McMurdo coffee situation would be grim, but I thought I'd use that as an excuse to just quit caffeine cold turkey. Pro tip: Don't decide to suddenly quit coffee on a trip with 24-hour sunlight and physically demanding days. At this moment I would happily give a baby seal for a Gorilla coffee latte.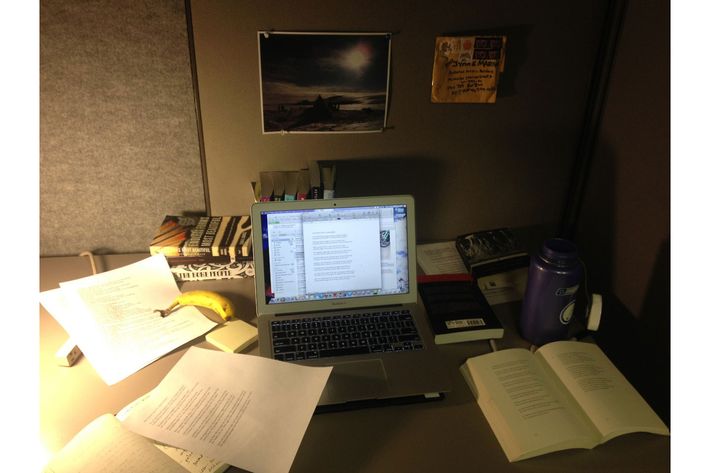 How does money work on Antarctica?
Just like in Brooklyn. But the only things we pay for are any general store/gift shop items, or if we drink alcohol at the bar. Speaking of which, I was thrilled to discover there is nice IPA in Antarctica.
Yes! I also took interest in the photo you posted of weekly alcohol rations. What does playtime on Antarctica look like?
People work hard and play hard. As mentioned, this place is ferocious about evening recreational activities. And there are two bars plus a coffeehouse with wine and liqueurs for just 783 of us (current head count), which have dartboards, pool tables, and even D.J. dance parties. Plus, there are all kinds of bizarre and delightful events and parties that emerge from so many creative people being cooped up in 24-hour sunlight. We just had the annual Turkey Trot 5K, where you have to run straight up volcanic ash wearing a costume instead of proper protective clothing.
But you also posted a bulletin that puts ratio of women to men at McMurdo Station at 1:4. At the risk being totally prurient, how does that affect the social scene?
Every woman I know here is in a relationship, either back home or with someone here. Among the McMurdo staff, a lot of couples either come here together each season, or quickly form upon arrival. I'm not sure how the remaining 80 percent of the men are coping, but I will say that a lot of roaring emanates from the weight-lifting gym.
I read that Prince Harry is also in Antarctica this month. Is the continent buzzing?
I just want to say to all my friends who are more excited for me to try to meet Prince Harry than to meet the penguins: I am silently judging you.