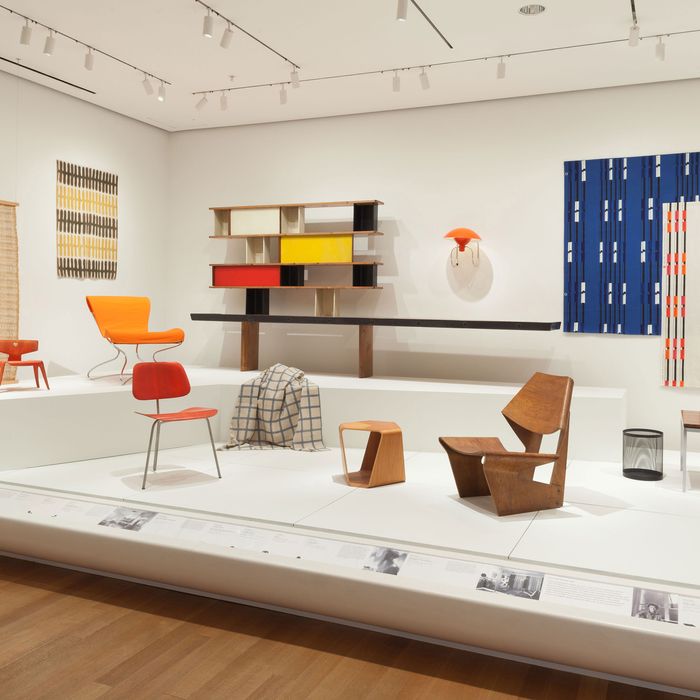 Photo: Thomas Griesel/MoMA
Ken Johnson of the New York Times points out that the Museum of Modern Art's display of "Designing Modern Women 1890-1990" was awkward about actually displaying the work of modern female designers. For example, the first piece in this show is a dude's.
A wooden side chair designed by Charles Rennie Mackintosh in 1897 opens the exhibition devoted to women and design. The placard notes that Mackintosh collaborated with his wife, Margaret MacDonald, who was acclaimed during her time but not well-known today. Ah, there's the connection!
Johnson writes:
If the exhibition were intended not to celebrate female designers but to lament how sexism kept them down, you wouldn't have to change a thing.
However, despite its reportedly uneven display, the exhibition manages to be thought-provoking perhaps because of its flaws:
In light of the mostly domestic sorts of work in this show, the intended ambiguity of its title comes to the fore. It's not only about female designers; it's also about how women have been, in some sense, designed by modern design, according to conventional notions of what women naturally are like.  
There's the Big Idea. It's not about Women Designers; it's about Designed Women. MoMA: delivering that wordplay to you — and probably under-representing female artists — since 1929.