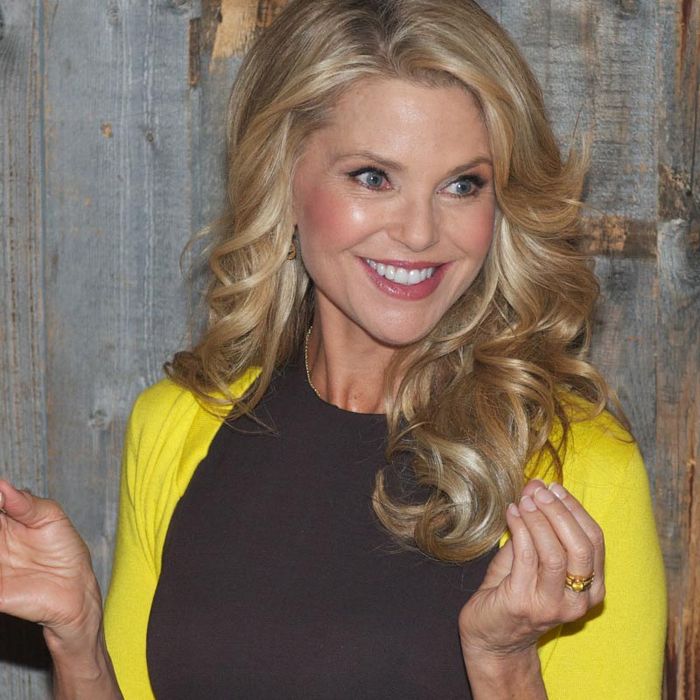 It's before 10 a.m. on a cold, windy morning, but Christie Brinkley looks like she just stepped out of a Hawaiian Tropic commercial. Her teeth gleam, her blue eyes sparkle, and her blonde hair bounces and shines. "I'm so excited you all are here!" she chirps.
One look at Brinkley and you'll buy pretty much whatever it is she's selling (which, over the years, has included everything from her eponymous line of face lotions to CoverGirl makeup, Chanel No. 19, and Diet Coke), and today, that happens to be hair. Fake hair. A whole table full of it, in different colors and lengths, stands at one end of the room at the Upper East Side's Park Avenue Autumn restaurant, where a group of journalists have gathered to gaze upon it while eating spoonfuls of Greek yogurt parfait.
When the news broke in September that Brinkley was partnering with Hair2Wear on a line of wigs and hairpieces, it seemed rather comical, as clip-on hair is wont to be. But Brinkley hopes to put that stigma in the past. "There used to be an association of, Oh, it's fake, and I would never add fake hair to my head. But I think that has changed, because now people know more about what goes on behind the scenes at fashion shoots and runways," she explains. "I've spent 40 years in the industry, so I'm used to it. But people are starting to realize that they're able to change their hair like they can change their outfit. And it's fun!" (Also fun: Brinkley models the whole line, including styles that call to mind everyone from Diane Sawyer to Sarah Palin, on Hair2Wear's website.)
Brinkley first began wearing wigs on a daily basis when she played Roxie Hart in Chicago on Broadway in 2012. "I'd have all this stuff in my hair after the show — hairspray, and pin curls, and bobby pins — and I wouldn't have time to shower and get it all out," she says. Not wanting to keep her fans waiting outside, she started leaving the theater in wigs. "It was just so much faster!"
She hopes to spread the word that fake hair can be about convenience, not necessity. "No matter what you're doing — whether you're a stay-at-home mom, or a doctor, or in the entertainment world — the one thing we all have in common is that none of us have enough time," she says. "We're always looking for ways to spend more time with our family, our friends, our children. I look at this as a real shortcut."
Of course, it's not like Brinkley's own tresses are lacking. "I'm capable of doing my hair and getting it to look the way I want, but it takes time. You know, blow-dry, and round brush, and shine, and hot-iron, and curl. But it's like cooking — some days I feel like spending time in the kitchen and putting everything together, and other days I just want to throw it in the microwave!"
After her pitch, I volunteer to try on one of the pieces — a "fall" of brown hair that attaches to my head with three clips, one behind each ear and one in the back. Because the hair isn't monocolored — the strands are several different tones — it blends amazingly well. I suddenly have a cascade of Kate Middleton locks that fall around my shoulders in loose curls. "You look so French!" exclaims Brinkley. "Now, if you really want to jeuge it up, you can layer another one underneath, and it'll be really…" She motions around her head in that va-voom way that only supermodels can.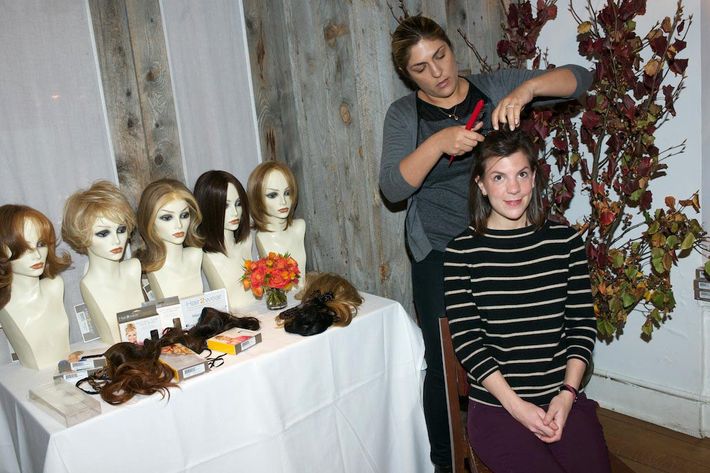 But some logistical questions remain: What if someone inadvertently feels the clips while, say, hugging you? "You know, usually people just think they've touched a bobby pin or something. They just don't really think about it. And if it's another woman, and I notice that she's giving me that look, I just go, 'Extensions!'" Brinkley says brightly, pointing to her scalp.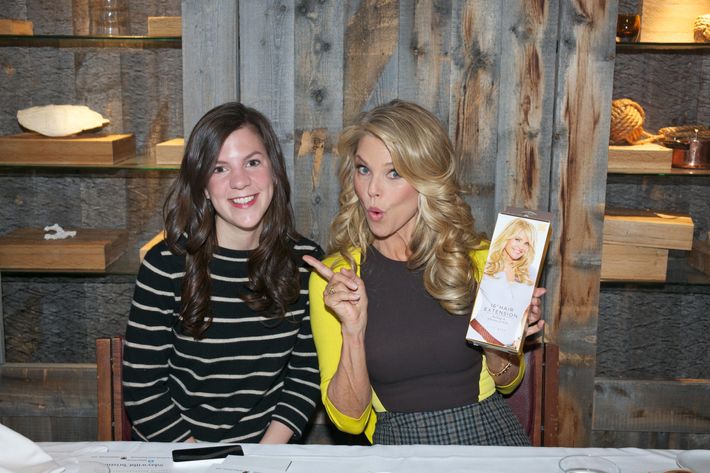 But there was one awkward time when a TSA scanner picked up the metal clips. "It beeped, and they asked me to stand to the side, and I was like, Oh my God, this is going to be so embarrassing. It was in L.A., so all the paparazzi were standing there. And I was like, Oh, here we go." But then, a miracle: "The TSA woman walked over, and she looked at me, and looked at my hair, and she just said, 'Okay, go ahead.'"
Has one ever come loose at an inopportune moment? "No!" she says. "They really stay in there. You can even wear them to the gym." Wait, really? "Yes! I love putting in the ponytail when I go to Soul Cycle. It's really energizing when I feel it bouncing around! And when I finish, it's the only part of me that's still dry." She claims that she wears them to the beach, too. "I even swim in them. It's a great beach accessory, you know. I always say, the bigger the hair, the smaller the hips!"