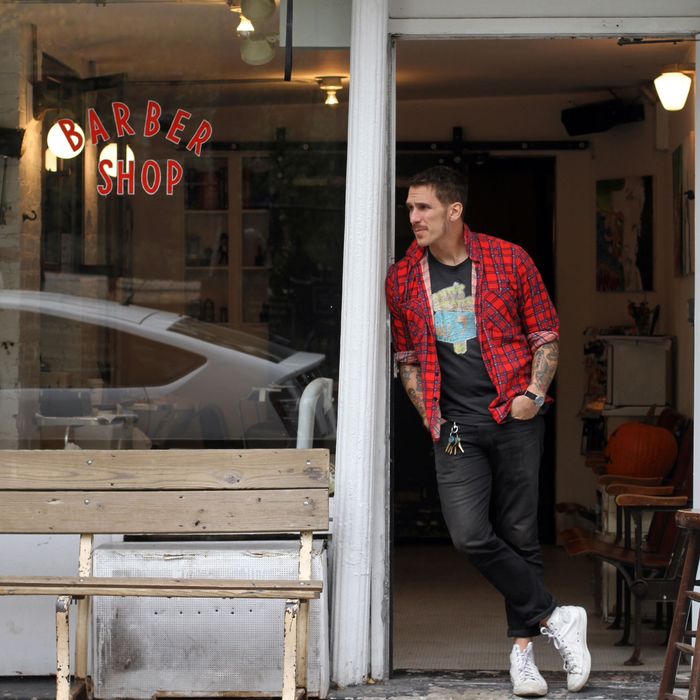 Rob McMillen at the Blind Barber.
Photo: Courtesy of the Blind Barber
Last Friday, thousands of men around the world said goodbye to their clean-shaven upper lips and braced themselves for awkward stubble. Movember, a global initiative that has men grow mustaches during November to raise awareness and money for men's health, is now officially under way. 
Enter the Blind Barber, the East Village–based bar and barber shop where men go to drink manly beverages, get a shave, and shoot the breeze with the tattooed, decidedly masculine staff. Although the Blind Barber has unofficially supported Movember in the past, this year they've partnered with the initiative's organizers on several events and a social media campaign. Co-owner Adam Kirsch and head barber Rob McMillen, an official spokesperson for the campaign, stopped by the Cut's offices last week to chat about facial hair, men's grooming, and how Movember can keep its edge.
So, what does it mean to be a Movember partner?
Rob: We have a cocktail lounge behind each of our shops, both here and in Los Angeles, which helps foster conversations that can continue after men get shaves and trims and so on. As we know, traditionally men are pretty stubborn people, especially when it comes to their health. So now we can fold that conversation about men's health into our normal grooming tips, and it's a way to get men to talk about it.
Does it really foster discussions about health, in your experience?
Rob: Well, men are really starting to care a little bit more about how they look and feel, in general. Also, facial hair can be a great conversation starter. We have numerous guys that will walk in with a great beard, and we'll all be envious, and then it'll turn into this freewheeling discussion about who can grow what. So Movember is taking that conversation to another level and saying, "Maybe you can talk a little bit about your overall well-being," and not just the aesthetic piece of it. I've definitely witnessed those discussions.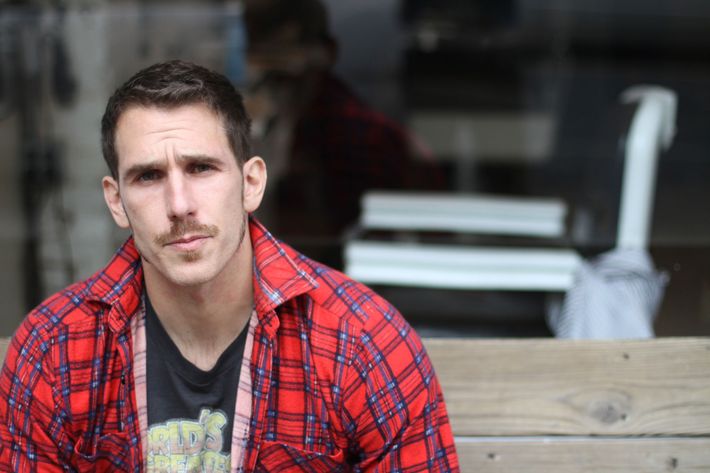 What else are you bringing to Movember, besides the Blind Barber name?
Adam: We're starting a social media campaign called "Share the Mo," where participants can post photos of their mustaches with a hashtag on Instagram and that'll carry over to other social media feeds such as Facebook and Twitter. It'll also upload to our SharetheMo.com website, where it autopopulates our mustache collage. Because Movember is about raising money, but it's also about raising awareness and having the mustache as a conversation piece for men to start talking about their health.
Movember has become a lot more mainstream. How does that affect the campaign?
Adam: All these different companies — and little ones, of course — that I never would've thought of as participating in Movember, they're reaching out, like, "We have our Movember team, we're trying to raise money, can we do an event with you?" A lot of liquor sponsors, too, they're all ready to go, all-in on Movember.
When I spoke to Movember COO Jason Hincks last year, he was very adamant that Movember was about mustaches, not beards. Are you guys purists too? What's your stance?
Adam: We'd like to stand behind Movember, but we're pretty easygoing guys.
Rob: We get a lot of customers that ask that question as well. They come in, they want to participate, but they're not sure what the rules are. For me personally, as well as a barber, you want people to feel confident and comfortable in all facets, especially when it comes to grooming. So if a guy has a bit of a weaker mustache, I think he can cheat a bit. But in terms of the actual cause, it's one that people should be having fun around. Participation is really key, and if you're too strict you may lose some people. By no means are we an enforcer necessarily of the rules, and if there's some variation, so be it.
It's both a blessing and a little bit of a curse, though, because as it gets more mainstream it becomes less renegade and "cool." Have you noticed that at all?
Rob: I think being mainstream is a good thing for Movember. But I totally know what you mean. It's tough. Mustaches were once a novelty piece — for a while, maybe three to five years ago, they were something that you associated with bartenders in Williamsburg or something like that. And now, i-bankers are growing them. So it's tricky to bridge that gap. But when you take it back to the cause, it really helps. Certain people have been like doubtful, like, "Aw dude, you're going to do Movember stuff?" And you know what, it might not be as "cool" as it used to be, but the main focus is to raise money and awareness.
And the general idea is to make it bigger than a trend — like Breast Cancer month, for example. No one's going to watch you do Race for the Cure and be like, "That's so 2007."
Rob: Exactly. I don't think Breast Cancer organizations care if they're cool. And there's NFL players that wear pink socks throughout October. It's amazing. So I think focusing on awareness is a great way to transition from fringe to mainstream, and we're glad to be part of that.
How do you convince your clients to participate?
Adam: We will automatically give them a mustache whether they want it or not! We tie them down and shave them! Just joking.
Rob: We'll usually bring it up during the initial consultation. Whether it's a customer that we've seen or someone that's walked in this week, we start with a few minutes of talking. Just like, "What do you do?" "What type of look are you going for?" "What are you comfortable with?" And then, for certain guys, we may ask a question like, "Have you thought about participating in Movember, blah blah?" It's pretty natural, like, hey, we're participating, come join us if you'd like to. If not, maybe you can donate or something.
Do a lot of people come to you with questions about grooming their mustaches?
Rob: Yes, but ultimately it's a simple thing, it really is. You just let nature take its course. I've seen articles that are like, "You must groom with this specific mustache comb, available at…" But just use a simple comb, or your hands. You don't have to assume a ton of additional cost, or additional product. Less is more with grooming, I think.