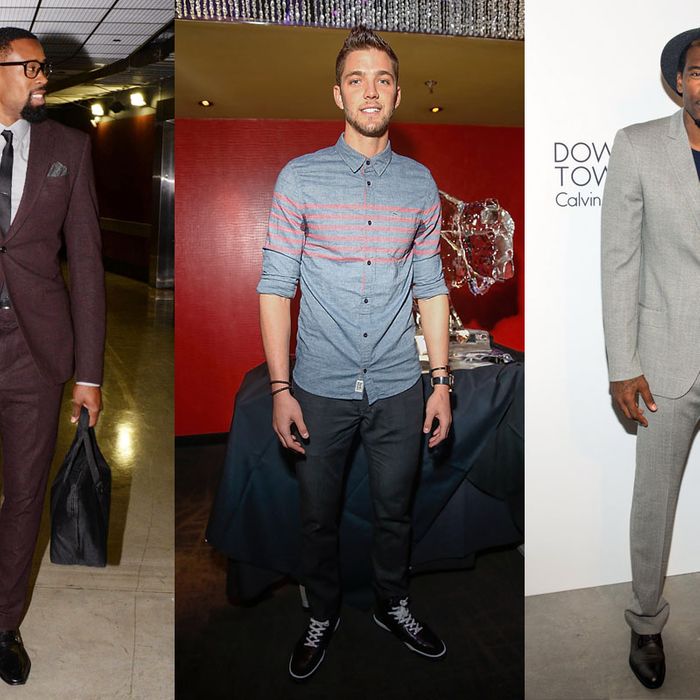 Tom Brady may be married to Gisele and Sean Avery might have done a brief internship at Vogue, but everyone knows you can find the most stylish athletes in the NBA. Thanks to the intrepid reporting of the Wall Street Journal, we now also know that NBA players have the most evolved beauty routines. Their locker rooms smell like almond cookies, Herbal Essences, and Secret deodorant. (It is, evidently, strong enough for a man.)
DeAndre Jordan, a six foot eleven player for the Los Angeles Clippers with size-17 feet who prefers Secret to other brands praises the deodorant for its light texture. "I'm always powder-fresh during the games," he told the newspaper. "I'm sure my opponents love that." He also uses "manly pink" Herbal Essences shampoo and conditioner. Chandler Parsons of the Houston Rockets has a five-part skin-care routine which includes all three steps of ProActiv, a Neutrogena cleanser, and an oil-free moisturizer. 
After a sweaty game, perhaps you'd like to cuddle up with either the Knicks' Amar'e Stoudemire or some Indiana Pacers: Stoudemire smells like Bath and Body Works stress relief eucalyptus-and-spearmint-scented body lotion; Roy Hibbert and George Hill like Carol's Daughter shea soufflé moisturizer, in the almond cookie scent. Says Hibbert, "It just smells really good." Another fan of female beauty products should take note — Brad Pitt.