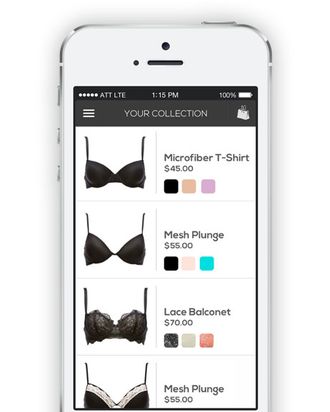 Photo: Courtesy of Thirdlove
Telling women they're wearing the wrong bra size has become a reliable strategy in lingerie marketing. Every few months, a new ad campaign announces a quest for bra-size accuracy, inevitably paired with a new, even more opaque sizing system. The latest in revolutionary boob-measuring is ThirdLove: an app that determines your new, real bra size via selfie, reports TechCrunch. The app guides you through the process of taking two boob shots (with bra), which you then send in to the ThirdLove database. Their algorithm analyzes your body using "science," and promptly sends you back your new size, which looks something like TL165 — an indecipherable code which will be entirely useless unless you chose to buy from their specialized bra shop.
To be fair, the app does offer the benefit of never having to personally interact with a bra salesperson ever again. But, as numerous tech blogs have already noted, it's really only a matter of time before someone hacks the boob-pic database.