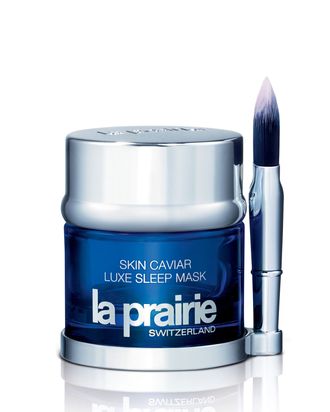 Like a moth to a flame, or a Kardashian to bronzer, whenever I learn of a new face cream promising to fix any one of my various complaints, I immediately want it. In fact, perversely, the more expensive it is, the more likely I am to pine for it. I started this obsession in my twenties, at a time when purchasing said emollients meant going without many other indulgences like cocktails, new clothes, and meals (I always made rent and never went into debt, which somehow made me feel okay, but was a rationalization at best). And since then, in my effort to avoid injectables, I've tried pretty much every costly face cream on the market.
Now, as we enter the dry, patchy, capillary-breaking season of winter in New York City, I've been testing out my latest panacea: La Prairie's new Caviar Sleep Mask. At $300 for 50 ml, it was by far the most expensive product I've allowed myself to try in any category. It claimed to be more than a mask and more than a skin cream. It promised to work while I slept and take advantage of my body's prone position, when meddlesome gravity wasn't pulling at my jowls. After painting it on with a short-sticked paintbrush two to three nights a week, I would see softer, more radiant, less wrinkled skin. The combination of exfoliating enzymes from the Carica Papaya and moisture from the caviar extracts and sunflower seed oil would give me a healthy, natural glow.
Here's the bad news: I've been using this creamy pink goo for two weeks, and I am sad to say, it is kind of addictive. My normally reddish complexion (brought to you by Retin-A) feels less angry. The dry spots on my temples and the crepe-iness around my mouth are less noticeable, even, dare I say, gone? I felt like I could skip foundation the other day because my skin felt so smooth. Plus, when I dip the brush into the cool cream, I feel like a throwback to a more glamorous era than my grandmother inhabited.
Real Beluga Caviar sells for between $200 and $300 an ounce. And though I love that luxury too, I'd gladly skip it for the kind that you can rub all over your face any day.
La Prairie Skin Caviar Luxe Sleep Mask, 50 ml, $300 at Nordstrom.