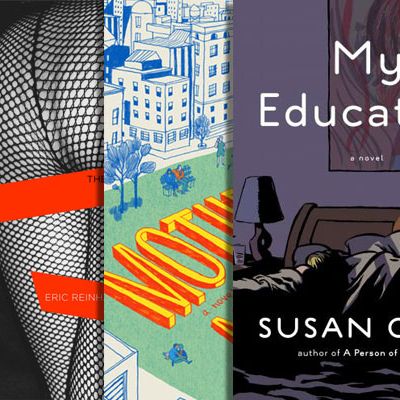 Bless the souls of The Literary Review, who give out the Bad Sex Award each year. This is the 21st year that they will dole out "Britain's Most Dreaded Literary Prize," which aims to find "bad sex in good books." Here are the nominations:
• My Education by Susan Choi

• The Last Banquet by Jonathan Grimwood

• House of Earth by Woody Guthrie

• Motherland by William Nicholson

• The Victoria System by Eric Reinhardt

• The World Was All Before Them by Matthew Reynolds

• The City of Devi by Manil Suri

• Secrecy by Rupert Thomson
Porny, erotic books aren't considered. The judges are seeking the smut among the serious. Many of these have good reviews! And people love Woody Guthrie (this novel was published posthumously, of course). Yet even though these books please critics, they might still merit a bad sex award. Ron Charles at the Washington Post points to a line from Susan Choi's My Education: "Often my flesh went so dry we would squeak like a rubber shoe-sole on linoleum tile."
Last year's explanation of The Literary Review's selection process warned against using caves and volcanoes as metaphors, using the word "tenderly," or talking about aching for people. Last year a photo shoot threesome took the cake. It featured this description: "undulating space where the undulating skies make your non-body undulate."
Charles reports that the winner is usually male (Choi is the only woman nominated this year). Whoever wins will join some of the most heralded writers in fiction today, including the most manly: Tom Wolfe, Norman Mailer, and John Updike have all received this honor. The Literary Review will announce the winner on December 3.