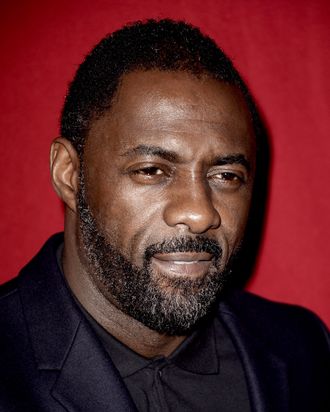 Photo: Kevin Winter/Getty Images
Idris Elba reports that even Barack Obama, leader of a nation and owner of Bo and Sunny, knows that Elba is a sexy fellow. According to Elba, before a White House screening of Mandela: Long Walk to Freedom, Obama told a riveting story about having Elba as a guest for a state dinner. Then, Elba told an even better story about this original toast:
He told everyone in the screening room …"Idris Elba couldn't sit down because all the ladies, all the ladies were all over him. Give him a break today, ladies. Give him a break."
You know what? Bluster it up, Elba. There is a time to be humble, there's a time to brag (though there is never a time to humblebrag). You selected the right instance to just get that gloat on. It's important we know that the most important of the importants knows that you're really the hottest shit.
And then, don't worry: Elba said nice, modest things (like "it was an honor" to screen in the White House), so he's still wonderful and stuff.