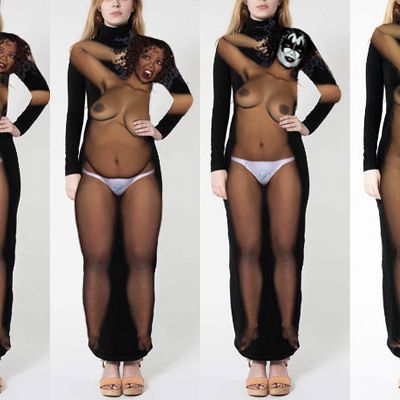 Photo: Courtesy of Peggy Noland
Peggy Noland, the concept designer who supplied Miley Cyrus with her Air Jordans and Rihanna with custom rompers for her tour, is explaining her latest project: an absurd line of T-shirts and dresses featuring various images of Oprah's head Photoshopped onto nude bodies — while gleefully watching Teen Mom 3 on a couch in her parents' suburban home in Kansas City, Missouri. An appropriate setup for an artist who calls her aesthetic the place where "white trash meets high class." Noland, who splits time between L.A. and Kansas City, where she owns her flagship boutique, says she is as much inspired by eccentric, rich French women as she is by R. Kelly — and small-town meth addicts.
Recently, she's been outfitting both mainstream artists (see: Cyrus and Rihanna) as well as L.A.'s underground A-list eccentrics in her outlandish pieces. These dresses, featuring "skinny," "average," and "obese" versions of Oprah with KISS makeup and screaming faces might just be her most eye-catching collaboration yet. She tells the Cut about the inspiration behind her designs, her plans to open the Prada Marfa of Rodeo Drive — and the best way to wear a floor-length naked Oprah dress without feeling X-rated:
Alright, let's start with the dress. Why Oprah?

This is a collaboration with designer [and Misbehave creative director] Sally Thurer. She's the one who made the graphic. For me, it originated as kind of the age old [red] carpet question: Who are you wearing? And this clearly is: You're wearing Oprah instead of a designer. Sally mentioned from the onset of this collaboration that one of Oprah's most effective qualities is that she's a placeholder, she's a stand-in for you with her foibles and her failures — especially with her public weight issues. I'm interested and sensitive to this increased access that we have to celebrities and to all of their ups and downs, for better or worse. I feel like it's kind of my own personal exploration and exploitation of just that.
Why naked Oprah?
There's a David Nelson painting of the former mayor of Chicago, Harold Washington. He's nude except for women's lingerie. It caused this huge uproar in the late eighties in Chicago. It's kind of an updated version of that. We feel very protective of our public figures. We don't want them to be exposed that way, but we feel like they're ours, too. The simpler, more lighthearted idea is that it's like one of those bikini-printed beach shirts. I think there are some really meaningful philosophical layers. I can't believe I just said "philosophical" when talking about a dress. We share a humorous underpinning to all our work. That's why there's naked Oprah with a KISS face. It can nod to how ridiculous the fashion industry is at times.
Do you think Oprah's going to put this dress on her Favorite Things list?
Surely Oprah personally would not be excited about having our version of her nude body splashed on a dress for other people to wear, but I think it's an interesting conversation to have about our access and our interest in people that we don't know.
If I were to wear this dress out, how could I do it without feeling awkward?

I would just encourage people to just be bold with it. If they're going to buy it and wear it, just wear it. I would say leave your jacket at home, you know? Or try the T-shirt version, then you have the familiarity of pants to help you.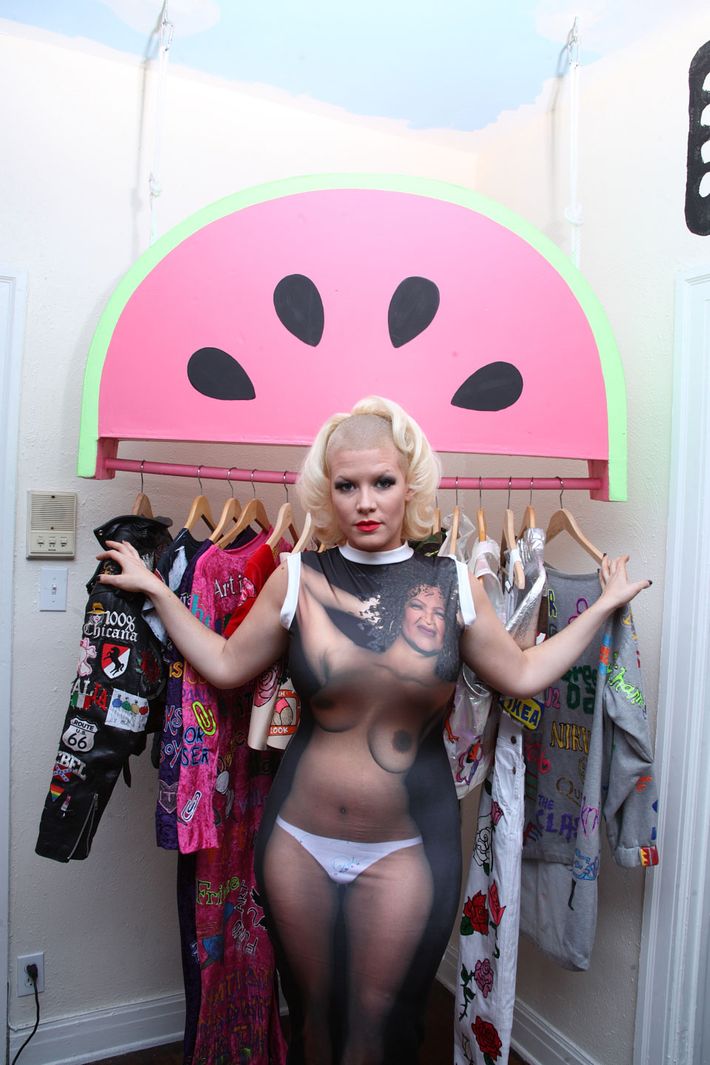 So you call your aesthetic "white trash meets high-class." What does that mean, exactly? 
Depending on how I've done my makeup and what outfit I'm wearing, my look, especially because of my haircut, is so easily "meth addict." Where I grew up, Independence, Missouri, had a huge meth problem, and I feel like, for better or worse, [the] white-trash aesthetic is pumped into my preferred look. It just feels like home to me. I'm also really attracted to this eccentric, Parisian old lady look. She's clearly has so much money she doesn't know what to do [with] anymore, so she's just buying things and piling them on top of herself. It's the same idea, and it's clearly a little exploitative, that you find a homeless person on the street, and they're wearing everything they own all at once, and you think, Oh my god, that's a great style. I'm comfortable with that intersection.
Is that a Kansas City or L.A. influence? 
I don't know if  I would have that same opinion had I not grown up in a place where that was mainstream, and a look that the cool kids were wearing. That's what the popular kids in my high school looked like. I'm not proud to say that's something I was affected by when I was younger, peer pressure and what the cool kids were doing.
Wait, you didn't consider yourself a cool kid?

Ah man, I wish I was. I wanted to be liked, I wanted to be popular. It's not something I'm bragging about. I'd love to say I was like, "Fuck the cool kids," and listening to punk — it comes with a lot more street cred. But until I moved in with legitimate cool kids, I didn't know about riot grrrl music or anything like that. I was listening to R. Kelly. Not Bikini Kill. That's had a huge influence on how I've developed my taste and my own aesthetic.
Any plans to open an L.A. store?
If I'm going to have a store in L.A., I don't want it anywhere except for Rodeo Drive. I know how crazy that sounds. My ideas behind that are centered around it being more of a public arts project. My stores are absolutely more concept stores than they are smaller versions of the Gap — like a Prada Marfa. I'm definitely an artist first, and a businessperson second — and my bank account unfortunately illustrates that.
Noland's Oprah dress collaboration can be found at Peggynoland.com or at her Kansas City boutique.