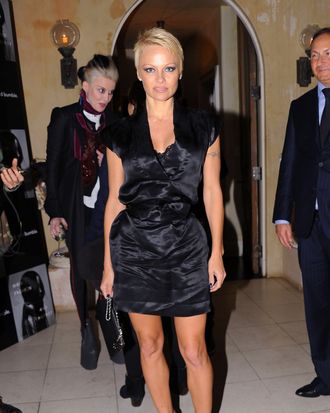 Photo: Paul Bruinooge//Patrick McMullan
The world knows a few things about Pamela Anderson — most recently, that she ran the marathon and got a new pixie cut. Maybe you're tired of hearing about aaaaall the cuts in Hollywood. But I'm not, so when I saw her slip into last night's Bumble & Bumble party celebrating editorial stylist Laurent Philippon's new book Hair: Fashion and Fantasy, I knew I had to ask about her new cut. Sweetly and perhaps unexpectedly, Pam was shy, but she gamely spoke with me about her new hairstyle, feeling like a sexy alien, and "hiding" behind her long hair.
Was cutting your hair a spur-of-the-moment decision? 
I didn't put a lot of thought into it. I just wanted to cut it. A friend of mine cut it. And Laurent has been chopping at it too. Laurent has given me two haircuts since I got the first one, between photo shoots.
How do you know Laurent? 
I've known Laurent for years. We have shot a lot of campaigns and photo shoots together with David LaChapelle and Sante D'Orazio. We just shot with Sante yesterday.
How do you feel with your new hair? 
I feel great. It just feels healthy and [like] something new. I was getting a little bored with my hair. It's kind of a symbolic thing, just getting rid of the past, moving forward. It's amazing what a reaction you get when you cut your hair. I wasn't prepared for that. [Laughs] All the positive reaction especially. [Laughs]
Is it different to style now?  
So easy, just out of the shower. Bumble & Bumble.
What do you see as the connection between your hair and sense of self? 
It's interesting. My hair was so much a part of my personality and all my photo shoots. I hid behind my hair. And then, I just decided I was okay with myself. To have short hair and really show my face, is even more revealing than anything. It's a statement — not to everyone else, more to myself. I'm just ready to get out from behind my hair and be myself. I am who I am. That's just the way it is.
It's great. 
It's very liberating to cut your hair.
A lot of other celebrities in Hollywood have been cutting their hair, too. 
I hear that! I don't know who else. Some people have told me a few names …
Like Jennifer Lawrence.  
Jennifer Lawrence, Jennifer Aniston. It's a new thing! Maybe starting a trend.  [Laughs]
Why do you think that is? 
I'm not sure. [Laughs]  Now I look at people with longer hair and think, "That's a lot of work."  [Laughs]
Right. I cut a lot of my hair recently, and now I feel the same when I look at long hair. I think, That's a lot of hair. 
A lot! Your whole life is your hair!
I had a friend tell me that it's hard to pull off short hair. You know, sometimes it doesn't look as feminine. But he felt [that] with me, I looked more feminine now than I did with the long hair.  I thought that was a great compliment.
And that's the risk right? That you don't feel as sexy as with long hair. I feel … sexier, I think, with short hair. I feel like an alien! I don't know what it is! [Laughs] I feel something different.  It's just different.
It's a different sense of confidence. It's "your cheekbones against the world." 
Yes!