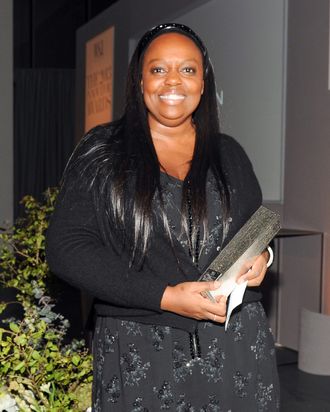 Photo: Neil Rasmus/BFANYC.com
Who causes a photo shoot to fall apart when she's unavailable? Who packs more than Naomi Campbell (as confirmed by Naomi herself)? Who gets in on the action at a photo shoot featuring an exotic dancer and starts throwing dolla dolla bills? That would be Pat McGrath, creator of the twelve-hour Givenchy face mask, the global creative design director of Procter & Gamble, and now, the creator of a liquid foundation for selfies.
The subject of a fascinating profile in WSJ Magazine and recipient of the brand's Fashion Innovator award, McGrath reveals that, along with many other interesting tidbits, she has started the aforementioned "selfie" foundation. Recognizing the prominence of "selfie culture," McGrath strove to develop a makeup that wouldn't require re-touching (or, ostensibly, too much of a Valencia filter.)
She tells the magazine:
Women are not going for that super-glowing, supershiny skin because you don't look that good when you're doing a selfie.
And thus, Dolce & Gabbana's Perfect Matte Liquid Foundation was born — a foundation with a matte finish that looks alive, warm, and touchable, and completely unpancakelike. Now if McGrath could develop a foundation for "belfies" — butt selfies — that would surely make her deserving of the award for two years running. Right, WSJ?