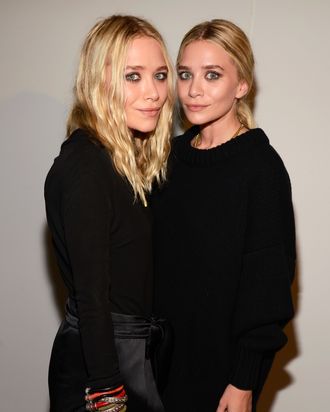 Photo: Kevin Mazur/WireImage
As rarely happens in either Hollywood or the world, people tend to think Mary-Kate and Ashley Olsen are a certain way, but they themselves feel that they are more complex and nuanced than their public image.
They tell Allure that people still can't wrap their minds around the fact that one sassy toddler (Michelle Tanner) has transformed into two different women who own a business and make products. With the enormous real-estate fortune earned from the sale of a Full House, why not just be a slugabed if you can?
Well, MKO thinks you guys have an dumb point of view:
I think people looked at us with the perception of, "Oh, you just have everything. You can do whatever." [Strangers assumed we] had enough money to just do nothing — or why would we go to college? And it's such an uneducated perspective!
Both women report that people still ask them the most irritating questions, presumably to make small talk:
"So do you like designing?" … "How involved are you?"
They're businesswomen now, for real. They actually do stuff, for example, all the business stuff that makes their companies successful. Perhaps if they play businesswomen in a movie, people will understand this evolution a little better. Just a suggestion. A little revamp of the designing scenes from Don't Tell Mom the Babysitter's Dead in a hip reboot would probably do the trick.
(And just a small side-note — AO's description of their twin love is real nice, like the heavy song on a mix-tape: "Beyond words. We both carry the weight of each other." Goodness, girls. Be sisters always.)