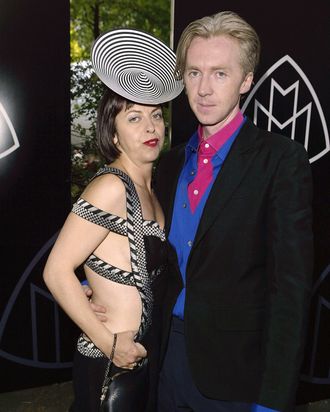 Photo: Gareth Davies/Getty Images
In an interview with the Telegraph, famed milliner Philip Treacy reminisced about his late friend and muse Isabella Blow. Treacy, who regularly created one-of-a-kind eccentric hats for Blow, remembered how much she loved his creations: "She wore them all the time, yet treated them terribly. She sat on them, lost them, or her dogs chewed them, but she inspired me to make amazing things for her."

Blow, who tragically committed suicide in 2007, will be honored with a retrospective this month at London's Somerset House. Isabella Blow: Fashion Galore! celebrates her envelope-pushing style and features over 100 items from her personal wardrobe.
Though he knows Blow would be ecstatic about the show, Treacy wishes the recognition had come while she was still around to feel the appreciation of the fashion world. "They mocked her," he said. "It was cruel." He continued: "She was never feted while she was alive. She gave so much and worked so hard … It's all very well them feting her now and going on about how wonderful and brilliant she was. There will be people at that exhibition who laughed at her when she was alive. They're hypocrites and they make my blood boil!"
Surprisingly, Blow's hat collection sounds like the least dramatic thing about the exhibit.