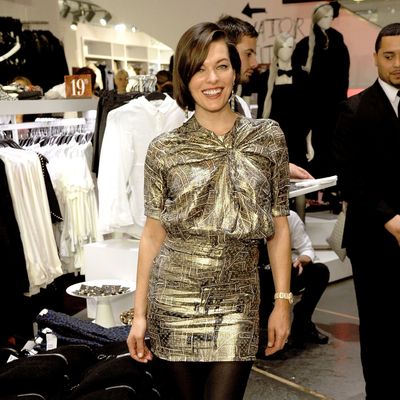 Photo: Bryan Bedder/Getty Images
We braved the Isabel Marant for H&M shopping event last night, and while we weren't able to pry any merch from the tight grips of fellow shoppers, we did get the chance to ask Milla Jovovich a million questions about Resident Evil and chunky sweaters. Jovovich, looking resplendent in a ruched metallic minidress from the line, chatted with the Cut about French style secrets, her supreme nerd status — and how to make the most of a shopping frenzy:
How did you end up as the face of Isabel Marant's H&M campaign?
You know, Isabel and I have been friends for a long time. I've been an avid collector of her clothing for ten years. I launched her first campaign. So it was pretty natural, I think, for her to reach out and for me to want to support. This is super important for her as an artist, as a businesswoman. I love to see strong, successful women doing it, you know? So I wanted to support as much as I could.
Has Isabel taught you any must-follow style secrets of French women?
Mixing patterns, for sure. Mixing tweeds with florals, and things like that. But if you're afraid to go all out, you can go for that chunky sweater look she's known for.  Always wear it with something slim-fitting on the bottom. You don't want to wear, like, a chunky sweater and big pants, because then you're going to look like you're swallowed.
Why do you think this line has such a cult following?

This H&M collection is all of Isabel's staple pieces.  I think there's a magic to seeing Isabel for H&M. Once it's done, you know, that's it. You're not going to be able to get it again. That's only going up in value as time goes on. I always love these designer collections with big, mid-range stores and high-end designers. People want it because it's special. You know, I have the version of a jacket that's being sold, but I don't have it with H&M in it. To people that collect clothing, it's special.
This sale is pandemonium. Any tips for surviving the stampede?

I would just use football tactics, I guess. You know? That's the only way to do it. You just get Resident Evil on everybody and start, like, pulling out martial arts moves. And if, like, I see that last shirt and someone else is going for it, you just push 'em aside, head butts, whatever it takes.
Do people still get Resident Evil or Fifth Element megafan on you?
My daughter is now obsessed with The Fifth Element. It's so cute. She's 6. Loves Ruby Rhod. And she understands his name is Chris Tucker, but she always says "she." She still can't put together that it's a guy, because he's always screaming like a girl. So funny in that movie.
Does she want the LeeLoo signature orange hair? I know I do.

Next year for Halloween, she wants to be Leeloo. It's like, I don't know. 6? I think it's a bit young. I'll have to like figure out a little more conservative version. Something a little more age-appropriate.
Do you have any plans to go back into design? Jovovich-Hawk was a huge success. 
I would love to. I mean, I do little collections right now, but to do it full time, I don't really have time right now between all of the other things I'm doing. It's a lot of work. It was fun when it was small, but as soon as we got successful, it was too much for me to think about. You know, we blew up and then we closed down. As soon as it got popular, we were over it.