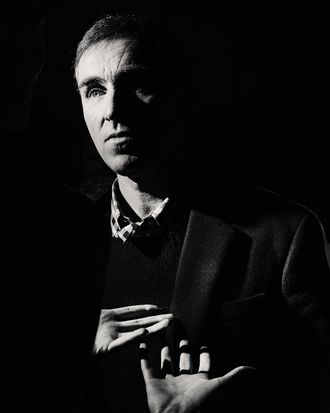 Photo: Christopher Anderson/ Magnum Photos/Christopher Anderson/ Magnum Photos
It is nearing 11 p.m. on Tuesday when Raf Simons, the artistic director of Dior and something like the current rock star of fashion, walks into a darkened room to the loud patter of minimal techno. The music segues into a driving, squelchy, 4/4 thump. In the center of the space is a towering, eighteen-foot-tall LED monolith flashing geometric shapes. Oh, but this isn't an early start to a rave—it's an ­evening at the Guggenheim.
Simons, who is Belgian and splits his time between Paris and Antwerp, is in town for the museum's international gala, of which he is an honorary co-chair and Dior a sponsor, and he is here tonight for the walk-through rehearsal. Simons has a reputation for being enigmatic, shying away from interviews and letting the clothes speak for themselves. But there are a couple of things he seems happy talking about—specifically techno and art, both of which he's geeked on. And which are both combined in the strangely bifurcated two-day gala: a dance party the next night and a 400-person dinner the night following.
Simons has come straight from the airport, arriving solo (meeting a Diet Coke his publicist had waiting for him), and despite the six-hour flight from L.A., the 45-year-old looks quite dashing—steely blue eyes highlighted by dark bushy brows. He's wearing slim black pants and a brown thick-knit cardigan with a buttoned-on black collar over another sweater and a blue gingham shirt. "I go to L.A. very often," he says, speaking softly in a deep voice with a gentle Flemish accent. "One of my closest friends is an artist named Sterling Ruby and he's just got a baby boy and I went to see."
Simons crosses the rotunda—past production people wheeling large dollies and staffers flown in from the Paris office—to a small stage where the techno musician Richie Hawtin, a.k.a. Plastikman, was doing his sound check. "I listen to his music every day," says Simons, kind of dreamily. "I am quite an addict to it. I shouldn't say this, but I listen to him up until my assistants say, 'Now, that's enough for today!' and I have to change the music." Plastikman's music is now bleating like a broken spaceship engine.
Onstage, Hawtin, who has a mostly shaved head except for a groomed, blond comb-over, is operating a complicated-looking, vast control panel: the music, and also the impressive gigantic video sculpture—his creation, unofficially titled Obelisk—that is the centerpiece of the party. Hawtin says it's "inspired by 2001," the Stanley Kubrick movie. "But that object is black and sucks all the light in, and this is white light."
"Do you know who designed the monolith in 2001?" Simons asks. "John McCracken."
"No! I have a McCracken at home!" says Hawtin. "He's one of my favorites."
"I am sure. I am sure it's a McCracken," says Simons. "Well, I need to check online later." As it turns out, McCracken did not design that monolith, and spent the last decades of his life amused that everyone thought he did.
A former furniture designer, Simons never studied fashion; he studied industrial design, which shaped his career as a sleek modernist, first with his namesake men's brand (founded in 1995), then with ­minimalist-futurist womenswear for Jil Sander, and now with Dior, where his collections have been the critical hit of the year.
"I used to be a club kid full-on back in the day," he says, and first met Hawtin ten years ago at a techno festival in Ghent. "His music to me is like classical." An electronic soundtrack seems appropriate for Simons's stern menswear label, but more at odds with his output at Dior so far—the graceful, updated–New Look, full-length couture dresses with nipped waists, and sets featuring garden hedges and oversize flowers among the very ladylike touches. "How Dior is perceived by everybody and what it is transforming into becoming are two different things," he says, a little gnomishly. And who says floral wouldn't be appreciated in space?
Simons ascends the ramp of the tiered building to check out the Christopher Wool retrospective—a wry painter best known for stenciled-letter paintings. The first canvas is stark white with letters that spell out fool. The others are abstract, one with minimal circular brushstrokes, the other crowded. The rumbling music bleeds in and works so well with the paintings it makes the show seem like a complementary installation piece.
"I'm a huge Christopher Wool fan," Simons says, pausing to admire the work, which will round out the décor at the Plastikman dance party. "The coming together of these two people I admire so much is quite unique." Simons owns two of Wool's paintings, he says, one of which hangs in his Paris atelier: "It says, GET THE FUCK OUT OF MY HOUSE."
*This article originally appeared in the November 18, 2013 issue of New York Magazine.
Photograph by Christopher Anderson/Magnum Photos/New York Magazine