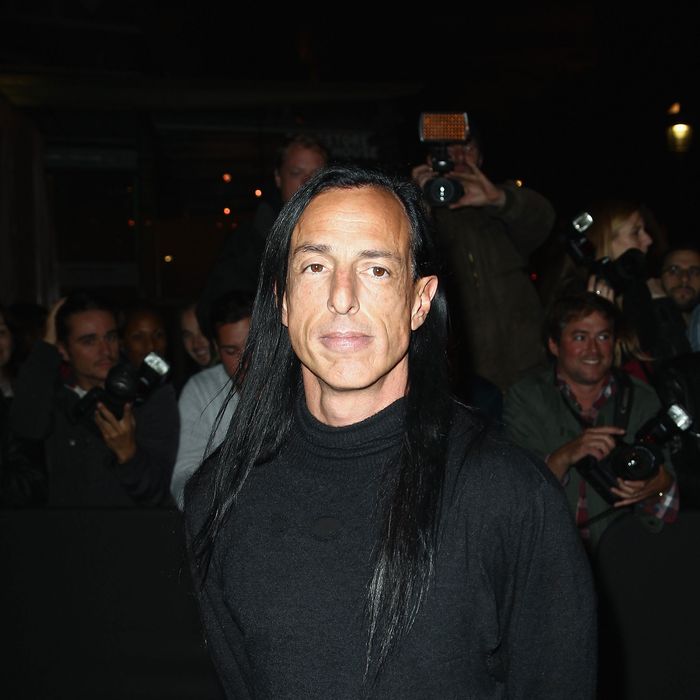 Photo: Julien Hekimian/Getty Images
Hip-hop legends have an enduring love for the avant-garde fashions of Rick Owens. Kanye wears him, Jay Z commissioned his design savvy for the Shawn Carter Collection, and a host of other fashion-forward rap artists name-check him in verse. For example:
A$AP Rocky, "Peso": "I gets get the freshest Raf Simons, Rick Owens usually what I'm dressed in…"
Wiz Khalifa, "Far From Coach": "Old Versace shit, the newest Rick Owens…"
Rick Ross, "Super High": "Rick Owens on me, bombers for my whole army…"
Jay Z, "Ultra": "My clique realer we get fresher Balmain jackets with Owen leathers…"


So much praise for Mr. Owens and his really expensive leathers. But, as revealed in an interview with AnOther magazine, Owens doesn't quite return the love for his fans: "I must admit that I'm not that familiar with Jay Z or Rick Ross or hip-hop in general," he told the magazine. "I mainly listen to hardcore techno, old disco records, and old show tunes. But of course I'm pleased to have a happy client and I think it is nice that they talk about my products." 
And reflecting on what it all means on a macro level, Owens continued: "I guess as our world is getting more and more commercial, maybe it has become interesting to them to look into less obvious, more obscure fashion labels. Before hip-hop used to be all about the big luxury label brands like, you know, Louis Vuitton, Chanel, Gucci." (And Versace, Versace, Versace, Versace.)
And then finally,  Owens seems downright stingy about gifting: "I don't supply them with my jackets, if that's what you think. They have to go out and buy them." 
No freebies, no matter how many times you chant Rick Owens in a song, guys. Unless you're Estonian death metal band Winny Puuh, that is.