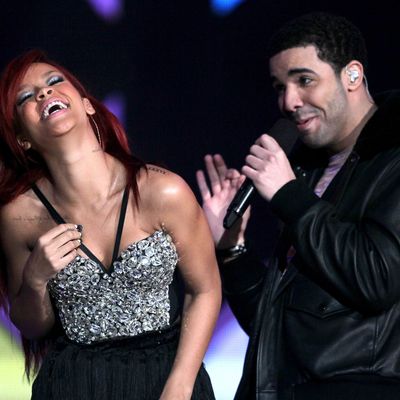 Photo: Jeff Gross/Getty Images
Rihanna and Drake spent a recent night together at a strip club in Houston, presumably indulging their shared love of classic feel-good musical Singing in the Rain: the pair made it rain until the morning.
Of course, a real dedication to fancy song-and-dance routines requires time and money. No matter to Robyn Rihanna Fenty and Aubrey Drake Graham. E! reports that the two spent $17,000 in total and were willing to stay up until daylight to achieve their wholesome dream. The pair stayed out well past 5 a.m., according to one of the dancers, whom we like to imagine was hired to make this musical fantasy a reality.
The evening began when Rihanna attended a performance of Drake's in Houston, reportedly singing and dancing to his music with a friend and her assistant. She had practiced her moves, and then it was time to let Drake know that she was ready for the big time!
The dancer with a cool, old-timey name — Jhonni Blaze — said that the two "looked like a couple," sitting really close. Dance partners do have a special connection, don't they? Blaze said Rihanna told her to "dream big." What did Drake say? Not much; "he was too busy throwing money." Finally, with the sun up and only one musical number left in their repertoire, the two departed together in the same car. Perhaps she was granted a kiss on the stoop? Who knows, but it all sounds very chivlrous.