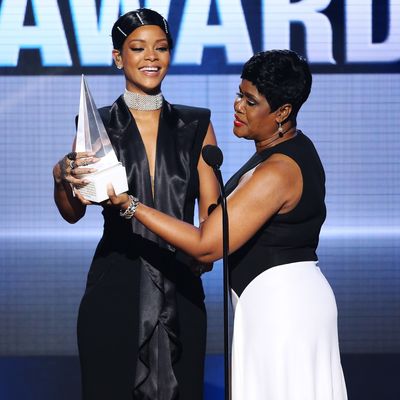 Photo: Michael Tran/FilmMagic
Sometimes it's easy to forget that the woman who writhes in denim thongs and takes leisurely topless strolls through SoHo actually has a mother.
That mother, it turns out, isn't sitting in a dark room, head in hands, wondering: "Where did I go wrong?" She's actually incredibly proud.
At last night's AMAs, Monica Braithwaite, mother of Rihanna, presented her daughter with the first-ever AMA Icon Award. Braithwaite, who wore an edgy evening look that matched Rihanna's  — and even had a complementary short haircut — got all weepy while congratulating her daughter on a long, successful, and scantily clad career. "I know the journey in your career has not always been an easy one, but tonight, I applaud you and admire you for being so strong and so positive, and so humble and so focused."
In return, an equally emotional Rihanna thanked her mother for supporting her from Day One, or "Just about 20 years ago is when I really started making your life a living hell [with] my annoying little husky man voice, you call it," she said. Seriously adorable. Put these two in matching Laura Ashley dresses and you have yourself a Hallmark Channel Mother's Day special.