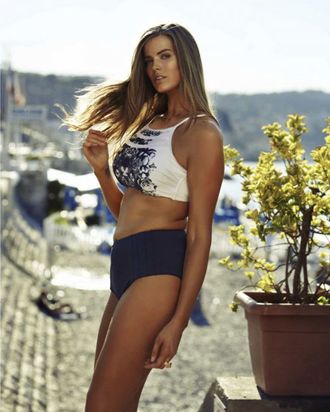 Photo: Cosmopolitan Australia
Robyn Lawley has been on a roll: First, she confessed to being cyber-bullied about her thigh gap, then she posed nude with bunnies — and now she's seen gamely strutting across a beach (Bondi?) in the December issue of Cosmopolitan Australia.
The shoot, which features Lawley in various stages of wetness, showcases her namesake bathing suit line, Robyn Lawley Swimwear, which she unveiled earlier this year for women sizes 8 to 18. Lawley models everything from a checkered bandeau to a zipped leopard one-piece — and in one image, practically makes bottled water look like a margarita.
She's gotten plenty of love since the spread leaked online — mainly because it's so damn refreshing to see bathing suits modeled by a woman with real curves. Not to mention the fact that Lawley has disavowed the label of "plus size," because, after all, it's just a word assigned to her by people who think size 0 is normal. Let's all cheers to that — with big bottles of Evian.