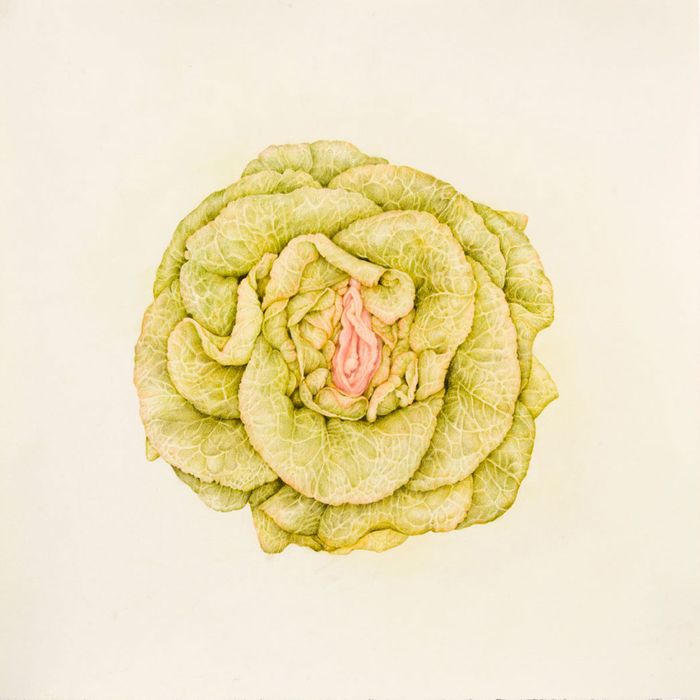 Aurel Schmidt's works walk that line between being fascinating and mildly repellent. She's a cool-kid artist (a 31-year-old messy blonde with Woody Allen glasses) who's become known for mixed-media pieces that are peppered with everyday objects and painstakingly rendered illustrations that are both girly and perverse.
Past series, such as Drug Voodoo Dolls and Burnouts & Party Monsters, featured works on paper depicting the detritus of her Lower East Side life: cigarette butts, dildos, tampons, pill bottles, condom wrappers, dirty underwear, and even her boyfriend's real chest hair. As Irina Aleksander of the New York Times once put it: "It can be difficult to tell which parts of Ms. Schmidt are sincere and which are meant to be a clever comment, a joke that we're all missing."
For the last few years, Schmidt has been on a roll: She landed her first solo show with Jeffrey Deitch in 2008, and was featured in the Whitney Biennial in 2010 (her submission was a painting of a large-penised Minotaur made out of cigarette butts and Budweiser cans.) Now, she opens Fruits, a subversive new collection of body parts sprouting from different fruits — from banana penises to cabbage vaginas —  set against the backdrop of a former bodega at 200 Stanton Street. (She described the venue as "derelict but kind of classy.")  She answers our questions by e-mail.
Why did you choose to make fruits the subject of your show? What drew you to them?
Fruit of thy womb,  fruit of the loom, the forbidden fruits … There are actually vegetables in the show too, and a fruit of the sea. I don't think one necessarily chooses their subject matter as much as it just becomes, a small idea or mishap grows into something bigger, like an accidental baby you decide to keep.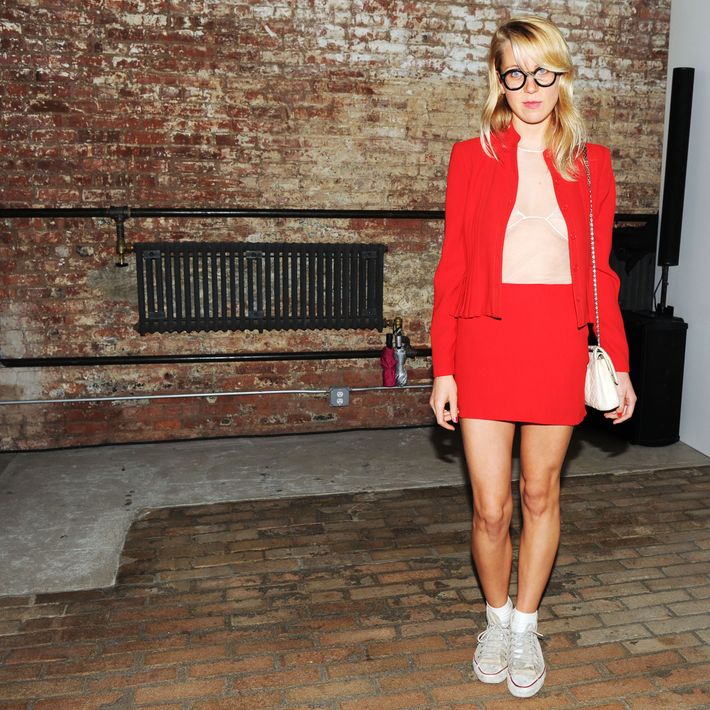 You once said: "I draw dicks a lot, but it's more of the feminine kind of wanting it or thinking about it." What did you mean by that? Is that still the case?
I must have been ovulating when I said that! What I probably meant was that I was drawing penises in a simple loving way instead of as a symbol of power or threat.  The penises in this show are much more body-parts then symbols of desire, a hand giving a thumbs up or a boner are both meant to be viewed equally.
How do you think these pictures would be different if you were a male artist, coming at this from a male perspective?
Probably the same I would imagine, I don't feel the work is particularly gendered. With some of my work I have wanted to comment on gender, whether broader issues of sexism or my own identity, but not with this show.
Similar to seeing body parts in certain fruits, is there anywhere else you look in the world – like on the subway or when you're walking down the street – where you see a lot of penises, boobs, or other body parts?
The subway just looks like one huge accelerating metal penis to me. The rats are the crabs, you and me the herpes.
 Aurel Schmidt's 'Fruits'  runs November 10-30 at 200 Stanton Street in New York; Friday and Saturday 12-6 p.m.