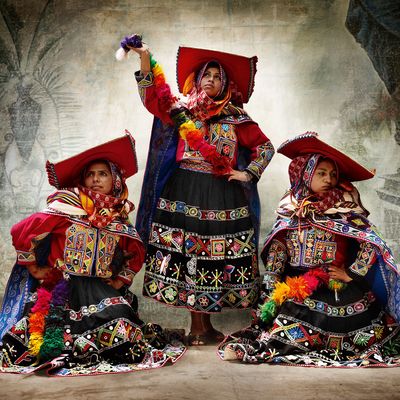 Tomorrow, fashion photographer Mario Testino's latest photography exhibit opens at the Queen Sofia Spanish Institute. But don't expect portraits of Lady Gaga, Kate Middleton, Gwyneth Paltrow, or any other A-list celebrities that Testino has shot over the years. Titled "Alta Moda," which means "high fashion" in Spanish, the images on display depict native Peruvians from the mountainous region of Cusco. Testino was inspired to make several trips to the area after he found an archive of local traditional costumes. 
"With this series, I wanted to do something very different — not just with my own work, but also with the practice of photography," says Testino. "I tried to fit as much time and history into each frame as possible — from the traditional and festive clothing to the Chambi backdrops to the Peruvian people in them." He adds, "It was in a way quite different from the work I am best known for, because usually it's about capturing the person's character, but for this series it was much more about the dresses." See a selection of the images in our slideshow.
The exhibit will be on view at the Queen Sofia Spanish Institute through March 29.