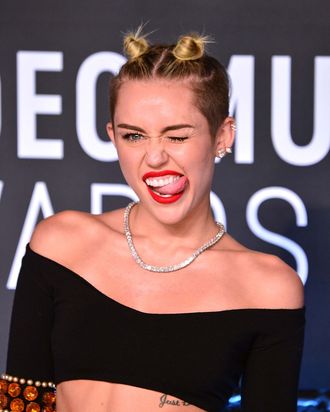 Photo: James Devaney/WireImage
Selena Gomez's handlers have blocked journalists from asking her about Miley Cyrus, according to the first sentence of this profile of the singer. This is smart. If Gomez does talk about Cyrus, there's a high probability she will come off hypocritical, petty, and judgey, or her words will be taken out of context in order to appear hypocritical, petty, and judgey. 
Case in point: Jennifer Lawrence. I briefly thought she had said something uncharacteristically gauche when I read the Us Weekly headline "Jennifer Lawrence on Miley Cyrus: It's 'Disgusting' That 'Young Sex Sells.' In fact, Lawrence said:
"It is is a part of the entertainment industry that sells. Sex sells, and for some disgusting reason young sex sells even more. Everybody's got their own path and they've got their own way of finding themselves. For some people, that's how they feel best, that's how they feel sexy and that's how they want to perform … to each their own."
Also, according to pop-star logic, Miley Cyrus is the biggest feminist in the world, and if you say anything critical about her or any other woman, you go directly to anti-feminist hell. There's no good excuse for Gomez refusing to talk about ex-boyfriend Justin Bieber, however.